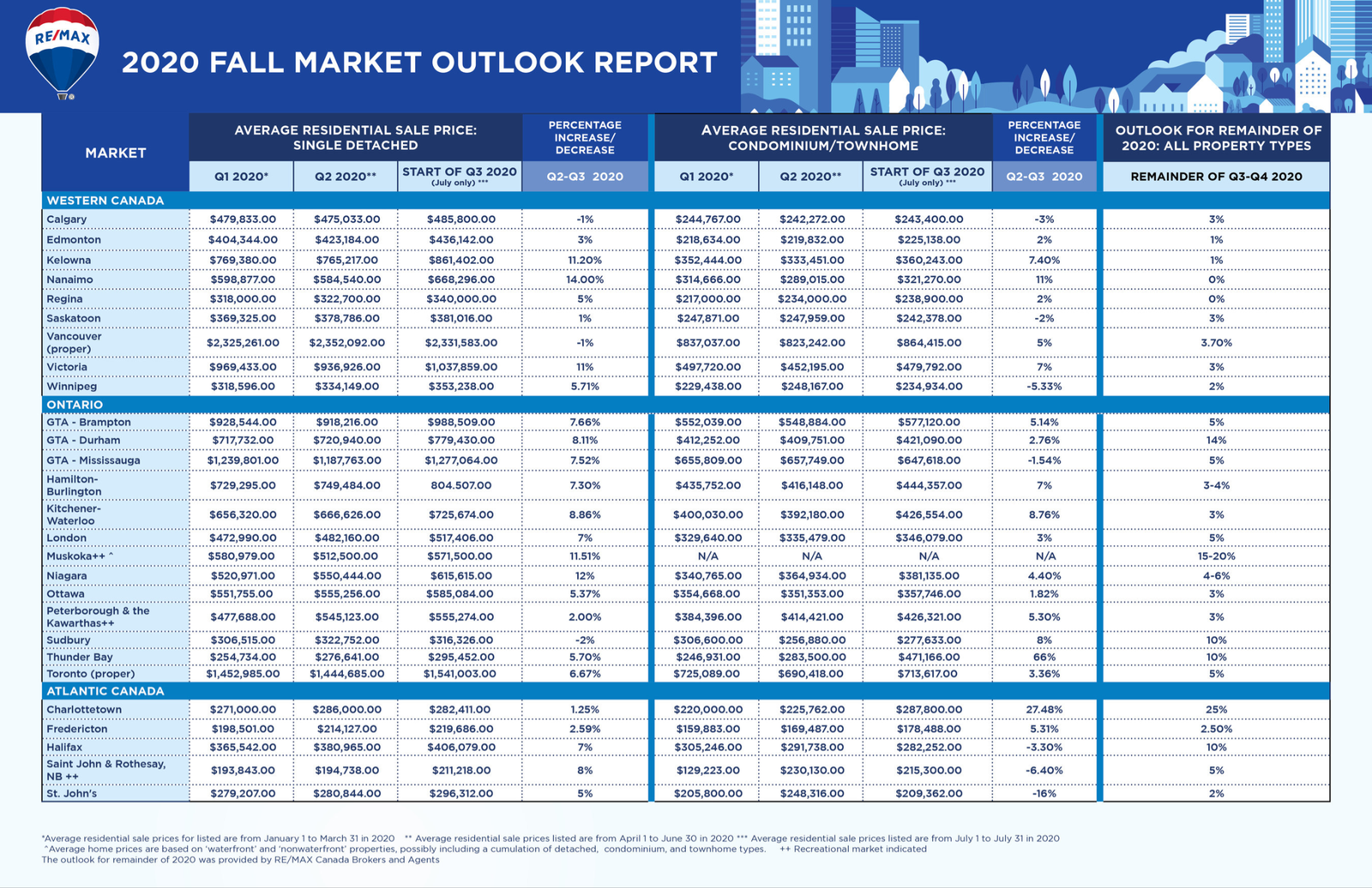 Above is an image of the 2020 Canadian real estate market outlook.
Recently, Canadians have shown more interest in suburban and rural communities as their work and life dynamics shift. 
Due to the way their work and life dynamics have changed, peoples needs have shifted for their homes, according to the survey, 44 per cent of Canadians would like a home with more space for personal amenities, such as a pool, balcony or a large yard.
Despite COVID-19, the Canadian real estate market is surprisingly doing well, despite COVID-19, housing prices are anticipated to increase by 4.6 per cent in the third and fourth quarter according to RE/Max brokers and agents. A couple of months back the original prediction was that prices would increase by 3.7 per cent, which proves that the market is doing even better than before.
Statistics show that 32 per cent of Canadians no longer want to live in urban centres, and are looking for rural and suburban communities as a replacement. However, most of the people who no longer want to live in urban centres fall under the age of 55. 
However the opinions on the real estate market differ when COVID-19 is brought into the subject, with 39 per cent as confident before the pandemic, and 37 per cent slightly less. Also, when it comes to the prospect of a second wave of COVID-19, 56 per cent of Canadians who are feeling confident in Canada's real estate market are still likely to buy or sell. 
"While COVID-19 lockdowns slowed Canada's housing market at the start of a typically busy spring market, activity bounced back by early summer in many regions, including Vancouver and Toronto," says Elton Ash, Regional Executive Vice President, RE/MAX of Western Canada.

To go further with this quote, Vancouver and Toronto are the two most expensive real estate markets in Canada, and usually, they are not doing great in most markets, especially Vancouver, however they have managed to also bounce back and are surprising many people by actually having a good market currently.
During COVID-19 RE/MAX has been taking track of the real estate market, on average most provinces experienced a massive slow down in March and April, with drops even reaching -70 per cent year-over-year. However, heading into fall, there is currently a pattern of modest increase throughout the markets.
In Western Canada, COVID-19 did affect the real estate markets in March and April, However, starting in May, Kelowna, Saskatoon, and Vancouver resumed sales. The market went so well in Western Canada that there was a year-over-year increase in sales in May and June. Edmonton's market bounced back rather quick going to pre-COVID-19 levels in June.

Travelling East towards Ontario, they were easily one of the provinces hit the hardest by COVID-19, and due to this many of its cities suffered during March and April. However, they bounced back rather aggressively when the economy reopened. 

Travelling farther East is Atlantic Canada. These provinces had fewer cases of COVID-19 than the rest of the provinces and still continued to experience slower activity in March. Currently, Halifax is continuing to experience a shortage in listing inventory since before COVID-19, and the shortage has caused an uptick in average residential sale price. RE/MAX brokers anticipate a 10-per-cent increase in average residential sale price in Halifax for the remainder of the year. 
Many cities are in seller's markets currently, such as Muskoka, Peterborough and the Kawarthas, and Whistler. A seller's market is caused by pent-up demand for homes however a low inventory. If you live in these locations, now would be an excellent time to sell. 
On the luxury side of real estate, Canada's luxury real estate is currently thriving. Although the classification of a luxury home is different all over Canada, it has managed to stay very well during the pandemic. And, according to RE/MAX specialists, the luxury market could continue to stay balanced for the remainder of the year.
If you would like to learn more about the Canadian real estate market and how it has and is currently being affected by COVID-19, or if you are thinking about buying or selling your properties, please contact Matt Gul, who is a top luxury real estate agent situated in West Vancouver, who can help you with all of your needs. To contact Matt Gul please call him at 778.888.8888 or email him at matt@mattgul.com
Summarized by: Onur Gul on Instagram at @onurgulfilm