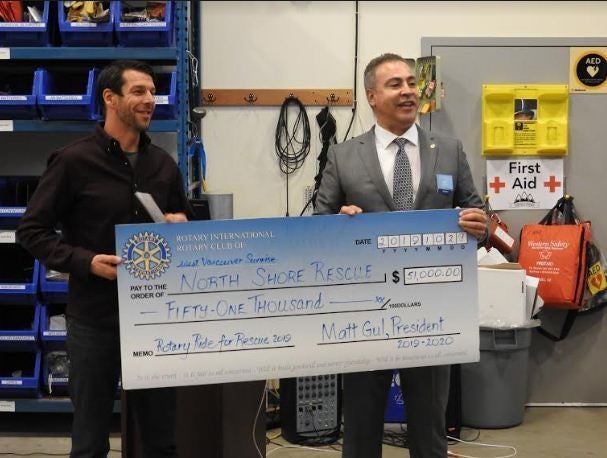 Rotary President Matt Gul (right) presents a cheque to Mike Danks of North Shore Rescue
Rotary Club of West Vancouver Sunrise presented a $51,000 cheque to North Shore Rescue last week at the Rescue headquarters. The money was raised from the 9th Annual Tim Jones Memorial Rotary Ride for Rescue in June this year.
In June of this year, with a team of sponsors, the Rotary Club of West Vancouver Sunrise's Ride for Rescue event had raised a record $51,000 for the North Shore Rescue Services. As many as 244 cyclists had participated in that event.
Overall, the 2019 Rotary Ride for Rescue was a great success, raising over $94,000 for benefit of North Shore Rescue, Royal Canadian Search and Rescue Stations 1 and 2, the West Vancouver Police Department's Pulling Together Canoe Journey, West Vancouver Municipalities Summer Work Experience and Adventure Program, the West Vancouver Memorial Library's Teen Summer Reading program and other Rotary supported projects
This cheque presentation event last week event also included presenting Honorary Rotary Membership to members of the community who are strong supporters of Rotary projects and the values of Rotary, including MLA Ralph Sultan, Mayor Mary Ann Booth, Councillor Bill Soprovich and West Vancouver Police Department's Anne Russell.
Rotary Club of West Vancouver Sunrise President Matt Gul has ambitious goals for the event next year, on Saturday, June 13, 2020. "It will be excellent if we can increase the number of riders and the amount raised for Rescue and other community projects, and with your support, this is very doable," he said on the occasion.
The Rotary Ride for Rescue Event continues to be the Premier Hill Climb on the North Shore.
Whether you are a road cyclist or a mountain biker, the Rotary Ride for Rescue is challenging but with lots of fun, fellowship, prizes, and a great pancake breakfast when you reach the top. There ride includes a road as well as a mountain course. The event is timed so that participants can challenge their time or the time of others from the previous year.
"We take this opportunity to thank all the cyclists and our community partners for their strong support without which this event would not be the success that it has become. In particular, our Presenting Partner Audi Capilano, our partners British Pacific Properties, Cypress Mountain, Split Mango, Method Cycling, Mulgrave School, North Shore Rescue, and BC Cycling; our Gold Sponsors Upward Construction and Renovation Limited and Standard Building Supplies Limited; our Silver Sponsors VPG Realty, Neptune Terminals, Polygon, Concert, and North Shore News; our Bronze Sponsors Bean Around the World Coffee, Stong's Market, North Construction, and Three Sixty Media; and all the cycling clubs and cyclists who had incredible climbs and created an exciting spectacle," said President Gul.
The Rotary Club of West Vancouver Sunrise 2018-2019 President and Assistant Governor for the North Shore Rotary Clubs recognized the support of Rotarians and Friends of Rotary who work yearlong to make this event successful: Ride Captain Rotarian Karen Harrison for the overall organization; WVPD Chief of Police Rotarian Len Goerke for sage advice on many aspects of the Ride including traffic control; Mike Danks, Manager of North Shore Rescue; Scotty Grubb, President the West Vancouver Marine Rescue Society; and President for strong volunteer support from RCMSARs and organizing the top of mountain; Rotarian Chris Loat for all his support to President Matt Gul for making this event successful; and Selin Gul, Canacon Media for preparing the invitations.
Next year, Rotary Ride for Rescue fundraising event is on Saturday June 13, when it will be the 10th anniversary of the Ride.
If you are interested to participate, volunteer, or sponsor the event, you can visit the event website at 
https://www.rotaryrideforrescue.org
 or contact President Matt Gul or Ride Captain Karen Harrison:
President Matt Gul: call on 778 888 8888 or email matt@mattgul.com
Ride Captain Karen Harrison: Call on 604 290 2050 or email khbowyer@gmail.com