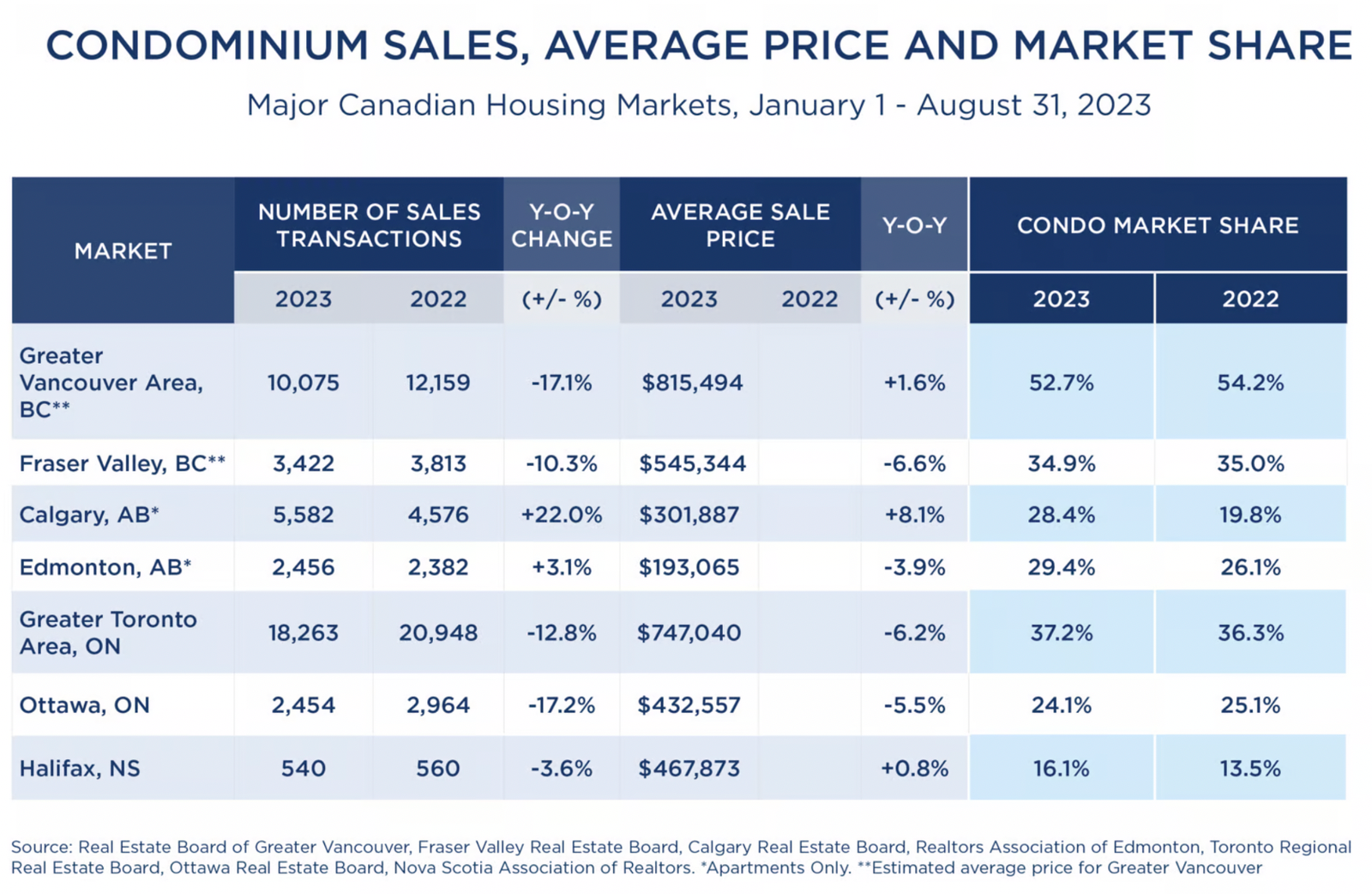 RE/MAX 2023 NATIONAL CONDOMINIUM REPORT
Recent economic indicators suggesting that Canadian homebuyers could be facing increasingly strong headwinds signalling the end of a short-lived bounce in condominium activity in major markets across the country.
RE/MAX examined close to 100 communities in seven major Canadian condo markets and found that stronger sales in May, June, July and August of this year were no match for year-to-date 2022 levels, given the strength of home-buying activity in the first quarter. Overall sales in the condominium segment fell in all but two markets in the first eight months of 2023, with Calgary climbing a substantial 22 per cent, and sales edging up a nominal three per cent in Edmonton year-over-year.

Meanwhile, average price held steady in Greater Vancouver, Calgary and Halifax-Dartmouth, while slipping in the Fraser Valley, Edmonton, the Greater Toronto Area and Ottawa. Higher borrowing costs, combined with the minimum qualifying rate of two per cent added by the stress test, contributed to lower condominium market share in three of the seven markets, including Greater Vancouver, Fraser Valley, and Ottawa.

In the country's largest condominium market of Toronto, a sizable uptick in new listings in August contributed to growing concerns. Toronto's apartment inventory rose almost 24 per cent year-over-year (3,893/3,144) while townhouse stock saw a more moderate increase of 7.5 per cent (929/864). New listings of apartments in the Fraser Valley also soared, up 27.9 per cent (709/554) in August, compared to August of 2022. Modest increases were also noted in Edmonton and Halifax. Calgary experienced a significant uptick in listing inventory compared to year-ago levels at almost 37 per cent (893/653), but the sales-to-new-listings ratio sat at 98 per cent (876/893) in August. A decline in inventory was also reported in Greater Vancouver year-over-year (3,986/4,028) while supply in Ottawa's condominium market also edged lower, now hovering at 2.2 months, down slightly from year-ago levels. 

Interprovincial migration was a significant factor in Alberta markets, as affordability and a lower cost of living proved irresistible to buyers in more expensive provinces – namely Ontario and British Columbia. Both provinces registered a decrease in in-migration in the first quarter of 2023, according to Statistics Canada Quarterly Demographic Estimates, Provinces, and Territories. While Ontario welcomed 125,000 international migrants in Q1 2023, the province registered a decline of 14,732 in interprovincial migration. Out-migration was the largest on record since 2000. British Columbia received 40,840 international migrants but lost 712 residents. The biggest winners were Alberta, welcoming 35,932 new international migrants and 15,786 interprovincial migrants, the highest level since 2000 and Nova Scotia, attracting 7,636 new international migrants and 2,690 interprovincial migrants.

Affordability remains a top concern in most markets across the country. Despite some softening in overall values, carrying costs are proving prohibitive for many buyers at today's interest rates. RE/MAX Brokers in several markets noted that current qualifications for mortgage financing are a roadblock to home ownership, given the stress test adds another two per cent to already high posted rates. Not surprisingly, the most active areas in every market are often those areas where affordable condominium product can be found. First-time buyers and investors remain most active in condo markets, with lower price points doing well virtually across the board.

2023 CANADIAN CONDO MARKET TRENDS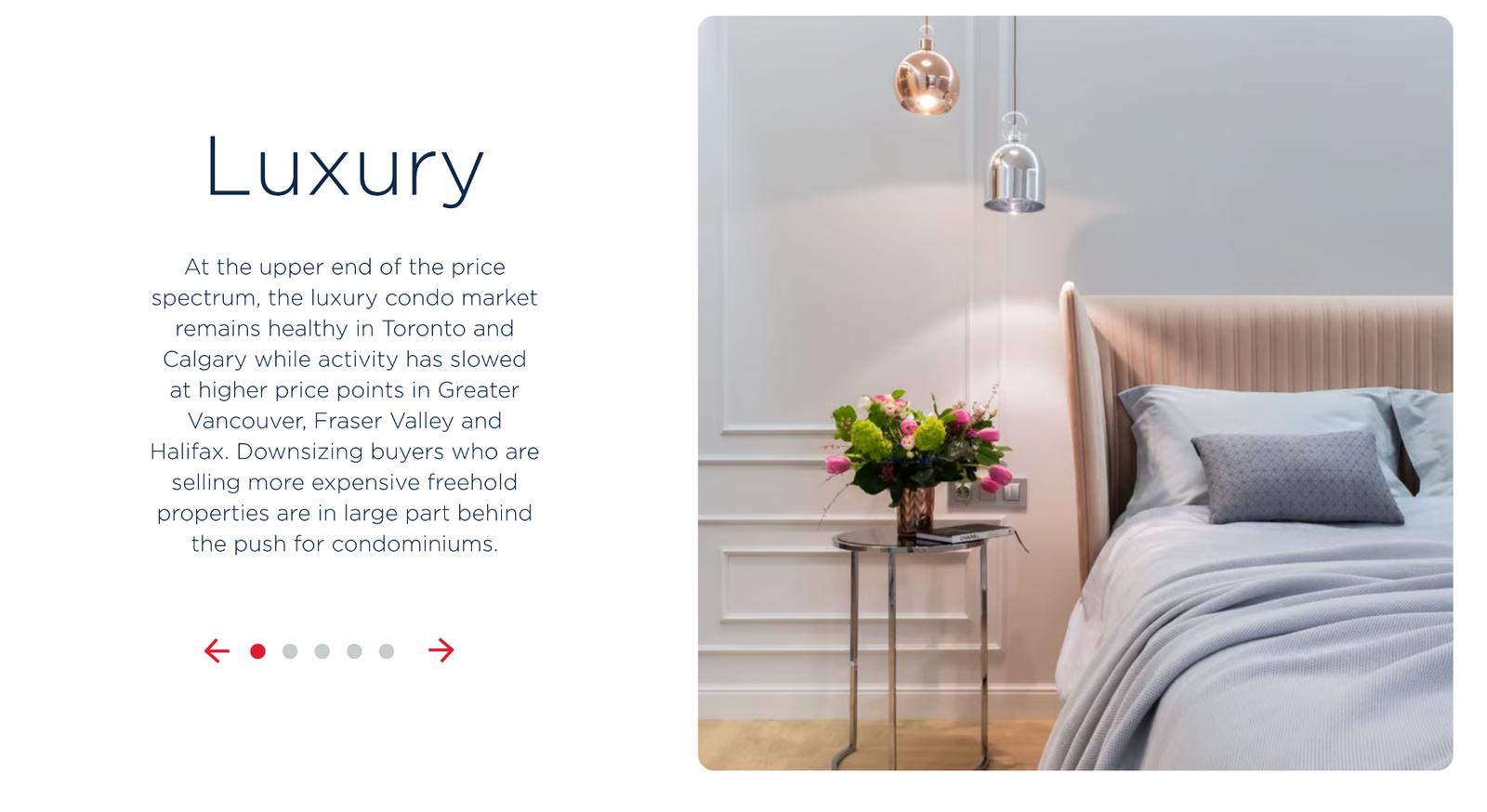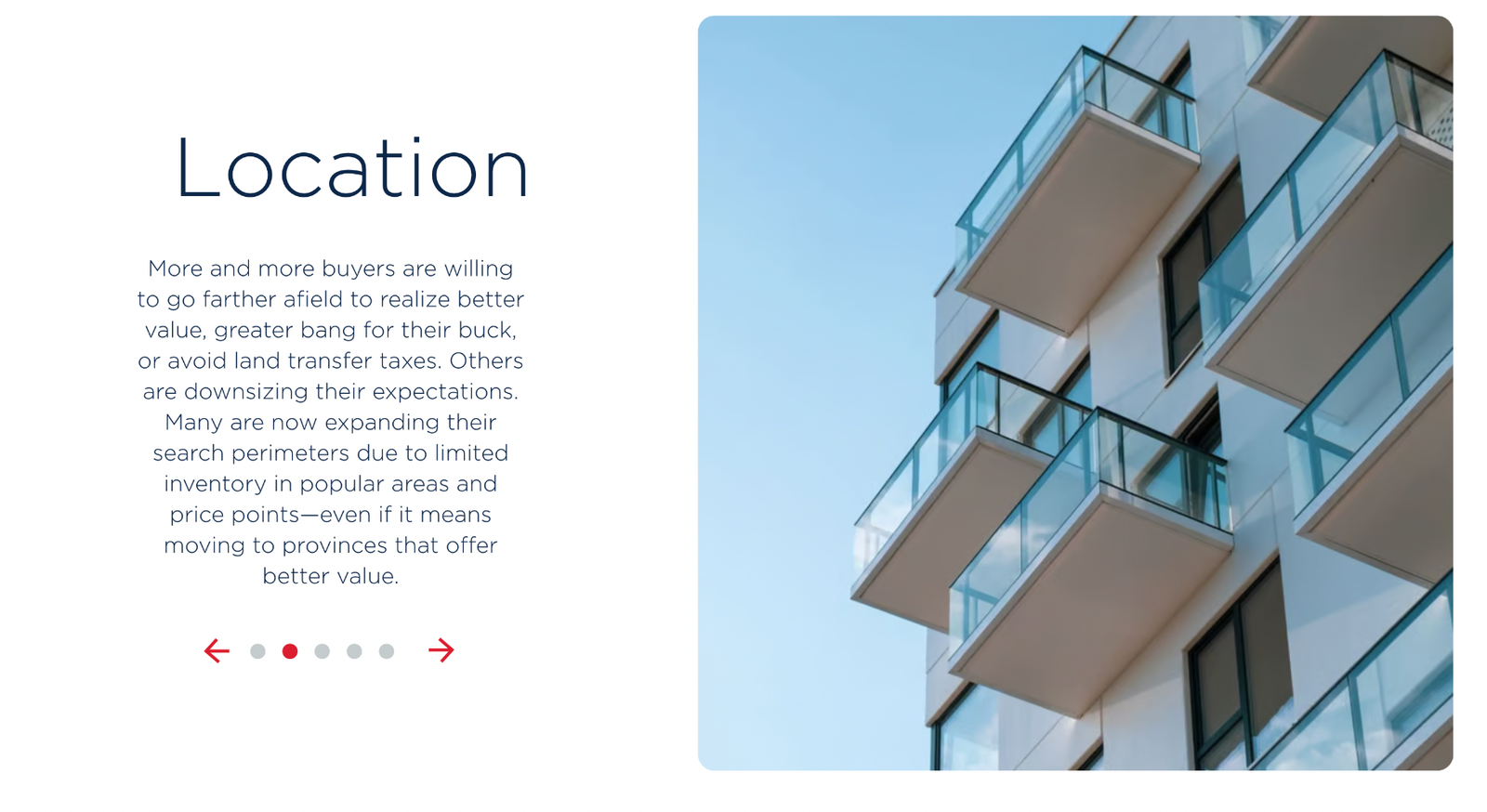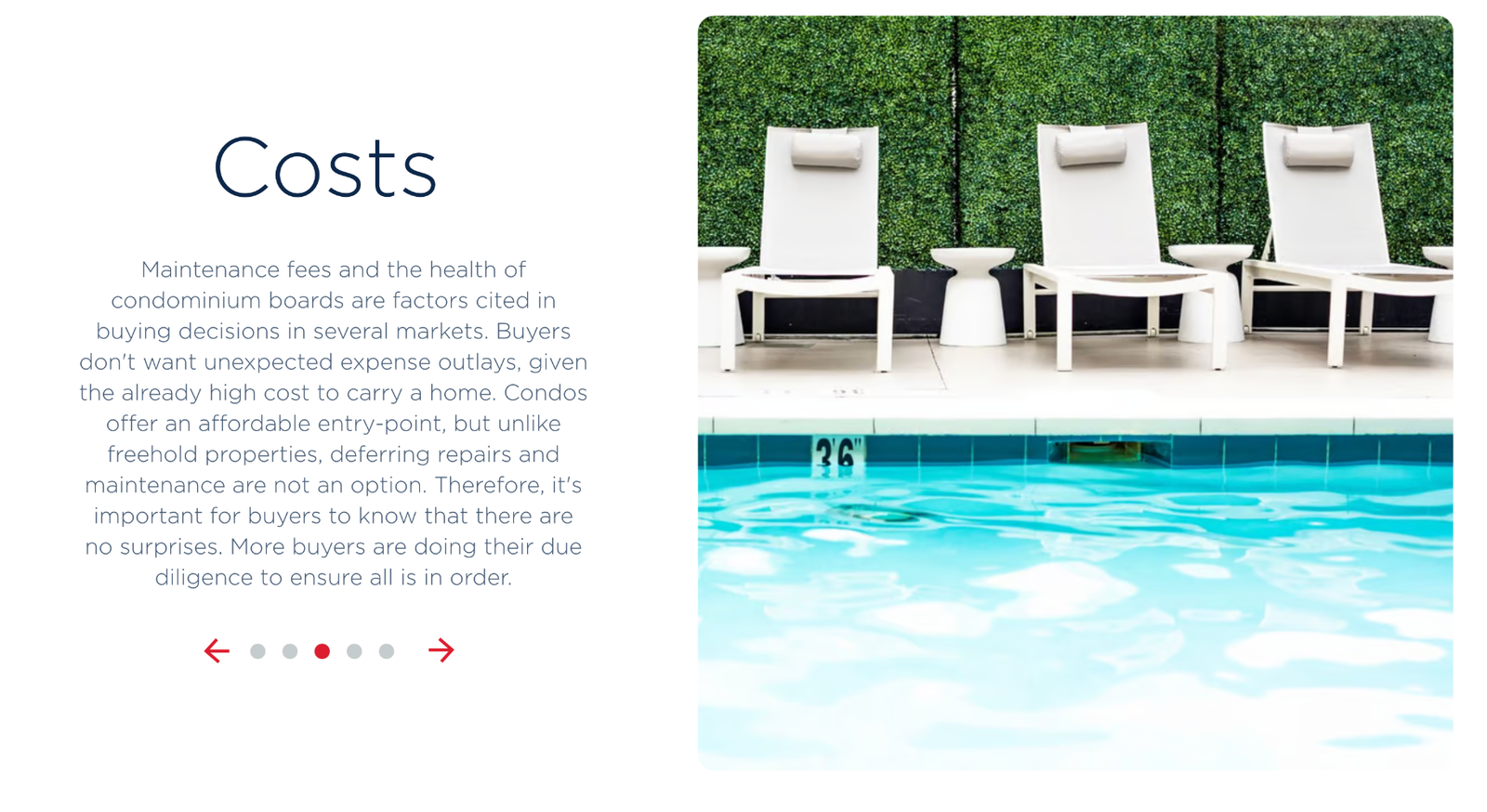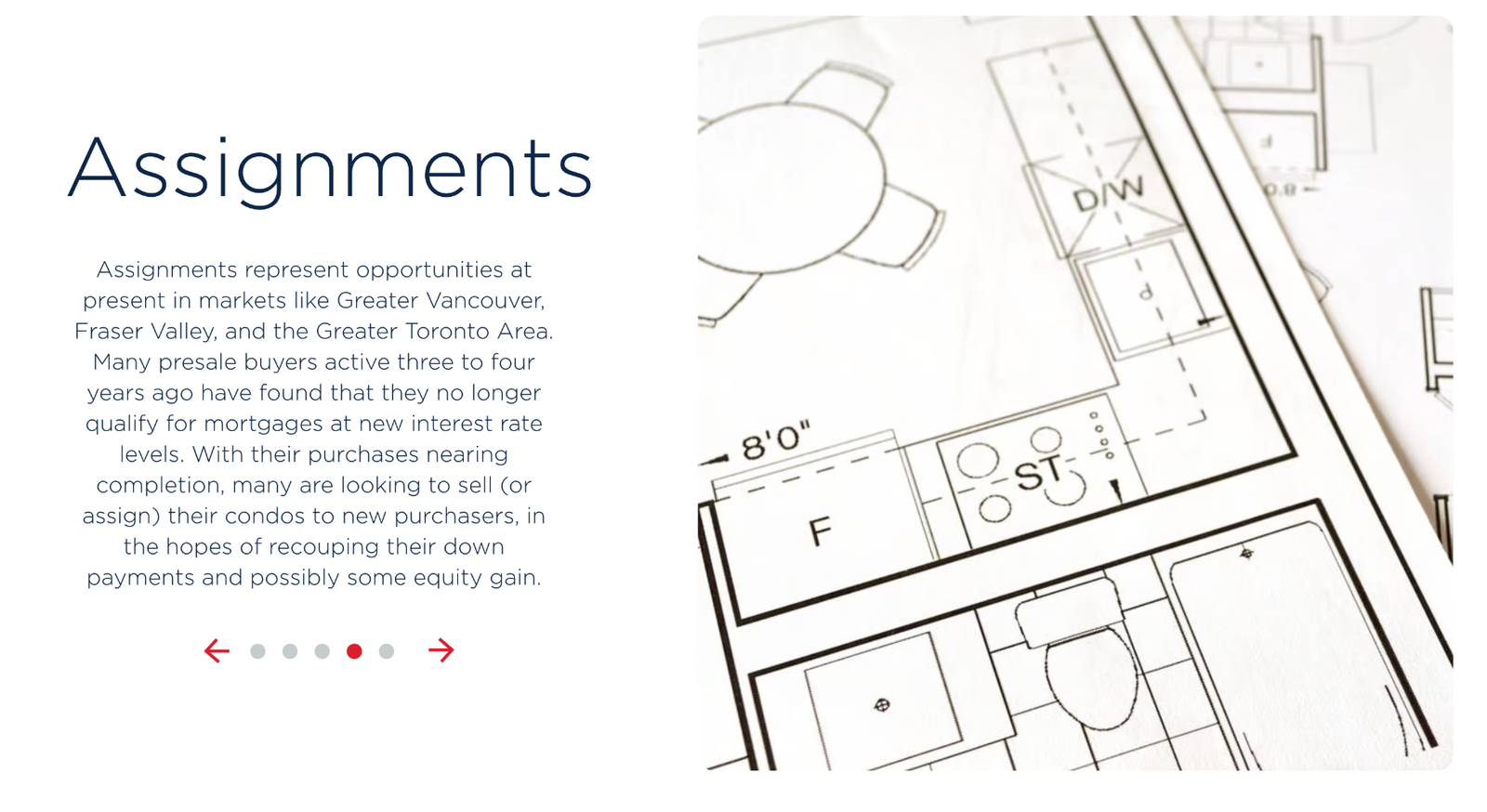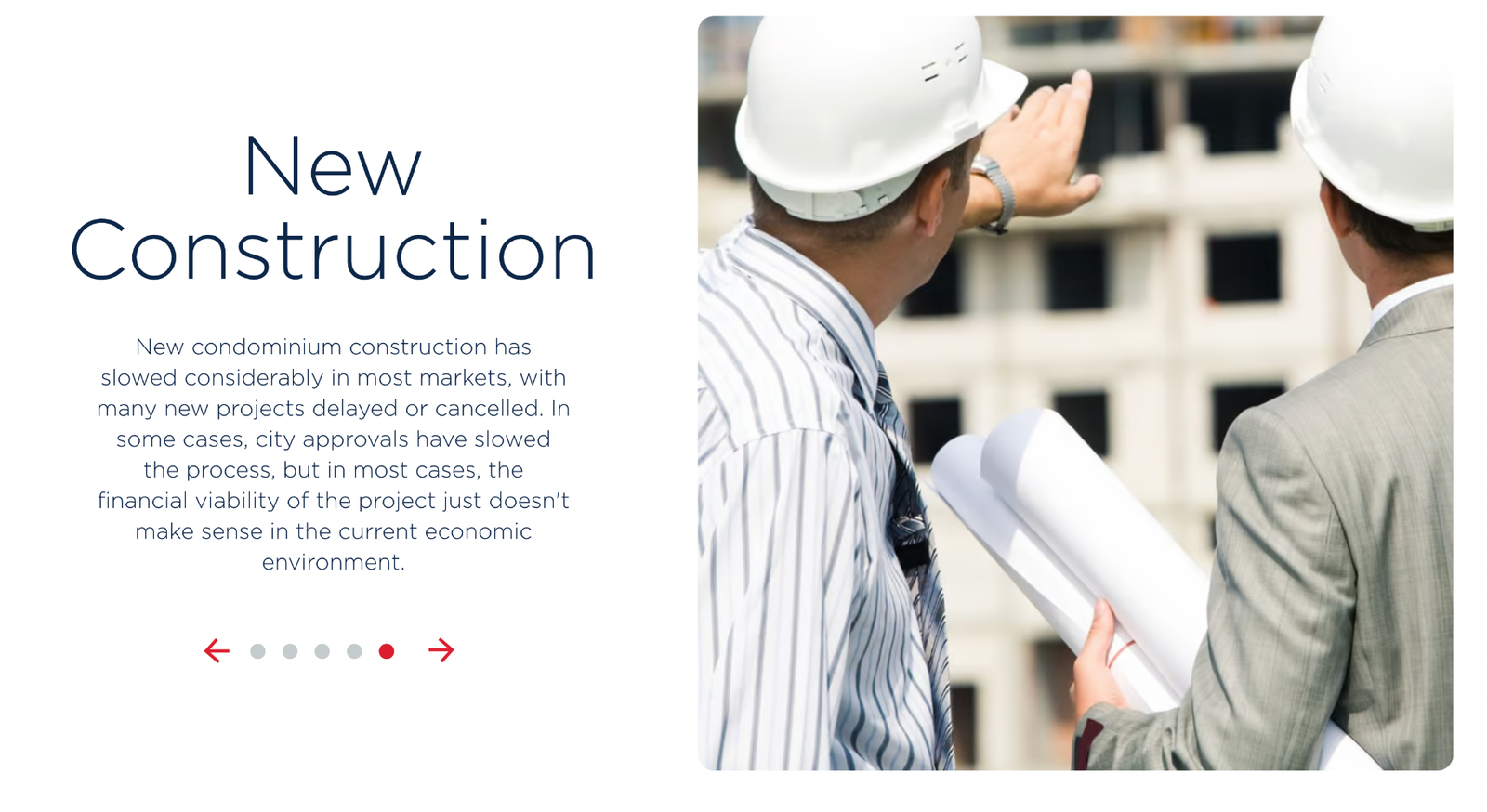 On the heels of a solid second quarter performance, demand for condominium/strata apartments remains steady in Greater Vancouver and the Fraser Valley. Homebuying activity surpassed 2022 levels in May, June, July and August in both markets, but continue to fall short of strong sales in the first quarter of 2022. Almost 10,100 apartments were sold in Greater Vancouver between January and August of 2023, a decrease of 17 per cent from the 12,159 sales posted during the same period in 2022, while median values increased in nearly half of markets surveyed during the same period. Condo sales in the Fraser Valley were down approximately 10 per cent to just over 3,400 units, with Abbotsford the only market to buck the trend (up four per cent). Average price has softened year-over-year, with most markets in the Fraser Valley down by single digits. 

While the market welcomed the Bank of Canada decision to hold on rates at their September meeting, potential homebuyers appear to be mulling over their options. Mixed signals characterized much of September, with some strata product moving well, as others lingered on the market longer than expected. First-time buyers are most active in the market, with the ability to qualify top of mind with today's purchasers. Most are starting their search for strata product below $600,000 within popular areas such as Langley, Burnaby, New Westminster, Coquitlam, Port Moody and Langley. The bank of mom and dad, once a serious driver in homebuying activity, has dried up in today's higher interest rate environment. For some would-be buyers, once they consider the closing costs, including the down payment and associated taxes, the upfront cost of homeownership is simply too expensive. This, even though first-time buyers are fully exempt, up to $500,000, on land transfer tax. The monthly rates for rentals have skyrocketed over the past year as a result, with the average one-bedroom apartment in Vancouver sitting at close to $3,000 in September and $2,550 in Burnaby, according to Rentals.ca – driven by both demand and a shortage of available units.

For those who are moving forward with their decision to buy a home, there are some opportunities in the market in the shape of assignments as new buildings near completion. Some buyers who intended to close when they bought into a project have found themselves unable to qualify at today's interest rates and, as a result, are selling properties at a discount. Denser areas continue to see the greatest activity, with amenities such as easy access to the SkyTrain, schools and shopping districts most sought-after. Maintenance fees are also a factor in today's market, with a well-run strata council imperative to the overall financial health and welfare of the condominium. Safety has also become increasingly important in the decision to buy. 
Strata sales at the top end of the market have slowed, despite a $19-million condominium sale early in the year in the city's core. Nine condominium apartments have moved over the $5-million price point in Greater Vancouver year to date, with more than 8,000 properties currently listed for sale.
While inventory levels edged up over the summer months, selection is still limited at popular price points. Good listings tend to move quickly, while those that are over-priced tend to stagnate. Should the BoC hold interest rate hikes in its next scheduled announcement, home buying activity – both sales are prices – should remain steady throughout the remainder of the year. 
After four consecutive months of sales surpassing year-ago levels, renewed concerns over higher interest rates are likely to slow homebuying activity in the Greater Toronto Area's condo market in the coming months. Overall sales of condo apartments and townhomes in the GTA year-to-date (January-August) are off last year's pace by 12.8 per cent at 18,263, compared to the 20,948 units sold during the same period in 2022. The average price of condo apartments and townhomes combined has softened as well, with values hovering at just under $750,000, down six per cent from year-ago levels.
Affordability continues to be a major factor in the market, with high interest rates and the government stress test the primary roadblock to homeownership, as fewer first-time buyers can qualify for a mortgage, despite lower overall condominium values. Those that are committed to buying, including first-time buyers, investors, and downsizers, are willing to travel further afield to realize value, as evidenced by the uptick in condominium sales in the 905 where buyers realize more bang for the buck and are not subject to the municipal land transfer tax applied in the 416-area code.
Sales data in 60 Toronto Regional Real Estate Board (TRREB) districts during the first eight months of the year showed an increase in transactions in one quarter of its districts (15/60) year-over-year, including six in the 416 area code: Stonegate-Queensway (W07), Bedford Park-Nortown, Forest Hill North, and Lawrence Park (C04), Newtonbrook West, Willowdale West, and Lansing-Westgate (C07), Bridle Path, Sunnybrook, York Mills, St. Andrew-Winfields, Hoggs Hollow (C12), Oakridge, Birchcliffe-Cliffside (E06), and Milliken, Agincourt, and Malvern West (E07). In the 905, nine districts experienced growth in sales activity, including Brock, Clarington, Uxbridge, King, Georgina, Richmond Hill, Vaughan, Stouffville and Burlington. Thirteen of the 15 markets that experienced an uptick in sales had average prices that appeal to entry-level buyers— ranging from $558,000 in Georgina to $789,351 in Stouffville. According to TRREB MarketWatch, 70 per cent of year-to-date sales of condominium apartments occurred between $500,000 and $799,999 while 65 per cent of condominium townhomes moved between $600,000 and $899,999. 
The top end of the condominium market has remained relatively strong, with sales over the $2 million price point climbing 5.7 per cent, up from 173 units between January and August 2022 to 183 during the same period in 2023. Slightly lower values were one factor contributing to the increase in homebuying activity at luxury price points. The average price of sales over $2 million was $2,925,608, compared to $2,964,221 during the same period in the previous year. The uber-luxe segment over $5 million also experienced a bump, with 11 properties moving in 2023, compared to nine in 2022.
Despite the softer sales and average pricing, condominiums were able to grow their marketshare by almost a percentage point year-over-year, rising from 36.3 per cent to 37.2 per cent of all TRREB sales. The townhouse segment maintained 7.8 per cent of the market in both 2022 and 2023.
While inventory levels were tight for much of the year, the supply of condominium apartments in city's central core rose in August. This was led primarily by an upswing in new listings in condominium communities south of Bloor Street, and markets north of Highway 401 including Bayview Village, Newtonbrook East/Willowdale East, and Bathurst Manor/Clanton Park. Neighbourhoods that are still reporting tight market conditions include Banbury-Don Mills, Mount Pleasant and Rosedale-Moore Park. Opportunities exist in the current environment as a growing number of assignments come to market. Many of these buyers purchased condominiums during the pre-construction phase at a time when interest rates were at record lows. As the buildings near completion, many are unable to qualify at new interest rate levels, leaving them no choice but to sell their units. 
With demand now moderating amid improved supply levels, there is potential for a further incremental decrease in condominium values in the Greater Toronto Area in the months ahead. The only stop guard is the over 35 condominium projects slated for launch that may be placed on hold or even cancelled as developers pause and wait for condominium markets to stabilize. The oversupply of listings will likely be absorbed as vacancy rates in the city remain low, but how quickly it will take to resolve will be dependent on interest rates and consumer confidence levels. With the posted interest rates for a five-year, fixed-rate mortgage hovering at close to six per cent at each of Canada's five major banks and more increases expected, a one per cent downward adjustment to the stress test would go a long way in helping younger buyers gain a foothold in today's market.