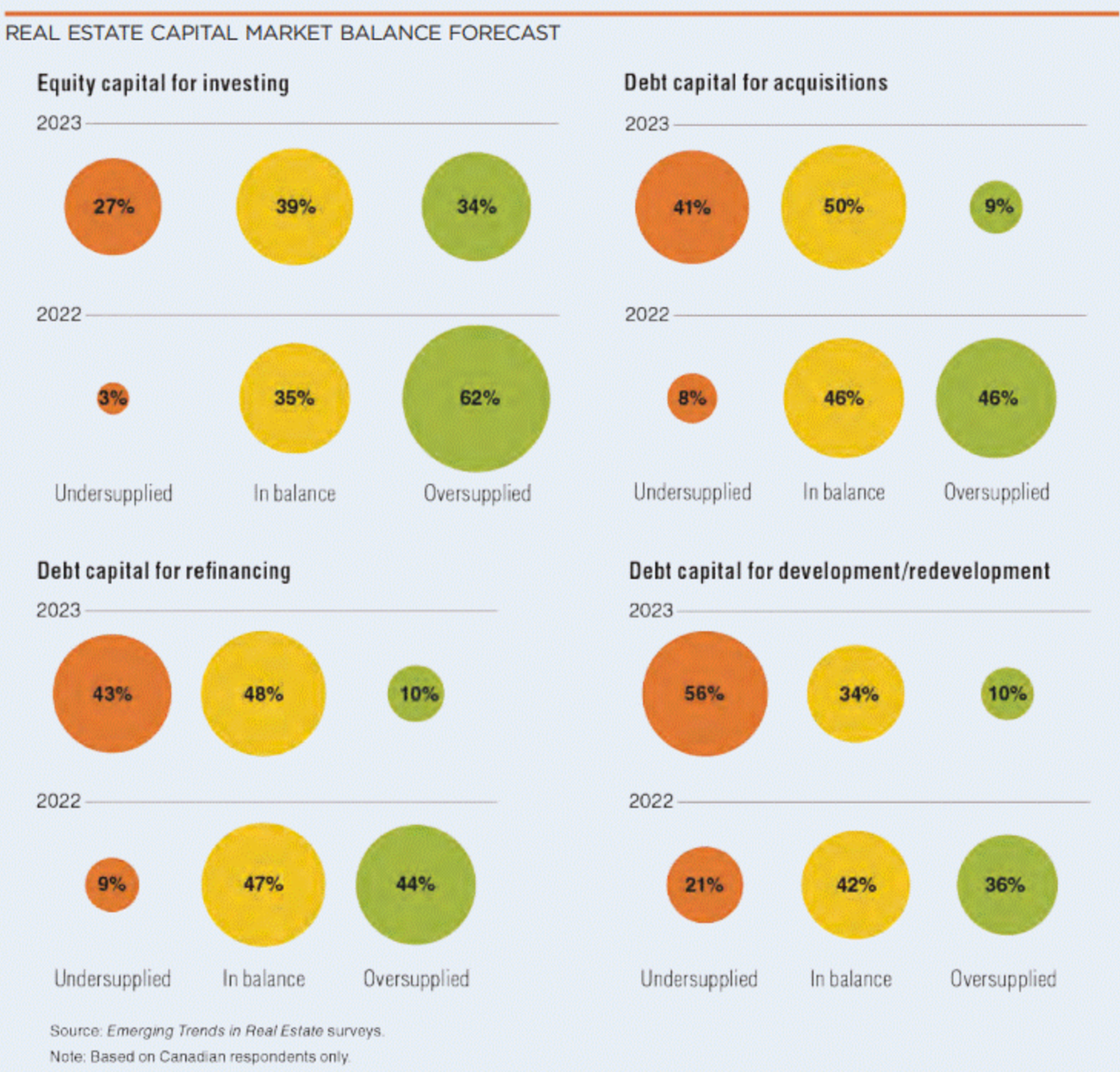 "Higher capital costs, sustainability come into focus.
For years, Canada has been an attractive place to invest in real estate, thanks to rising rents, valuations, and returns, as well as Canada's stability and immigration trends. But as in the United States, the Canadian real estate industry was hit hard in 2022 by factors including inflation, resulting in significant disruption. Nevertheless, as in the United States, industry experts say the long-term picture remains positive due to strong fundamental underpinnings.
The Canadian real estate industry faces three major challenges in the near future.
Costs and capital. It was not that long ago that some feared an abundance of capital would create more competition for deals and push up prices for assets. Now, the opposite is true, thanks to a series of interest rate increases by the Bank of Canada. In addition, on top of higher financing costs, lenders have been tightening borrowing requirements, making it more difficult for companies to move forward on projects. Some companies may adapt to the new reality by pausing projects or canceling deals for property types such as condominium development, where challenging economic conditions make it harder to get the numbers to work. Others, though, may space out sale of units to make sure prices reflect rising costs. Others may look at new technologies, such as mass timber, to get projects built faster or at lower costs, or both.
Companies face growing pressure from activists, investors, and government regulators to reduce greenhouse gas emissions connected with their assets and to improve sustainability in other ways. The industry also faces challenges to improve its inclusiveness and diversity, but increasingly sophisticated tools may make it easier to measure progress.
Housing costs and availability rank as the top social/political issue among survey respondents this year, with homeownership costs for single-family homes now approaching 60 percent of household income. Some major markets, such as Toronto and Montreal, saw the largest net migration losses to other areas in their provinces in the past two decades. Discussions are increasing regarding the policy role that government could play in solving the shortage of affordable housing. Changes aimed at increasing the supply of denser housing forms such as duplexes, triplexes, and mid-rise apartment buildings may help. The industry also may play a role by finding ways to make construction more cost-efficient and developing public/private partnerships to deliver affordable housing."
(Kiger, 2023)