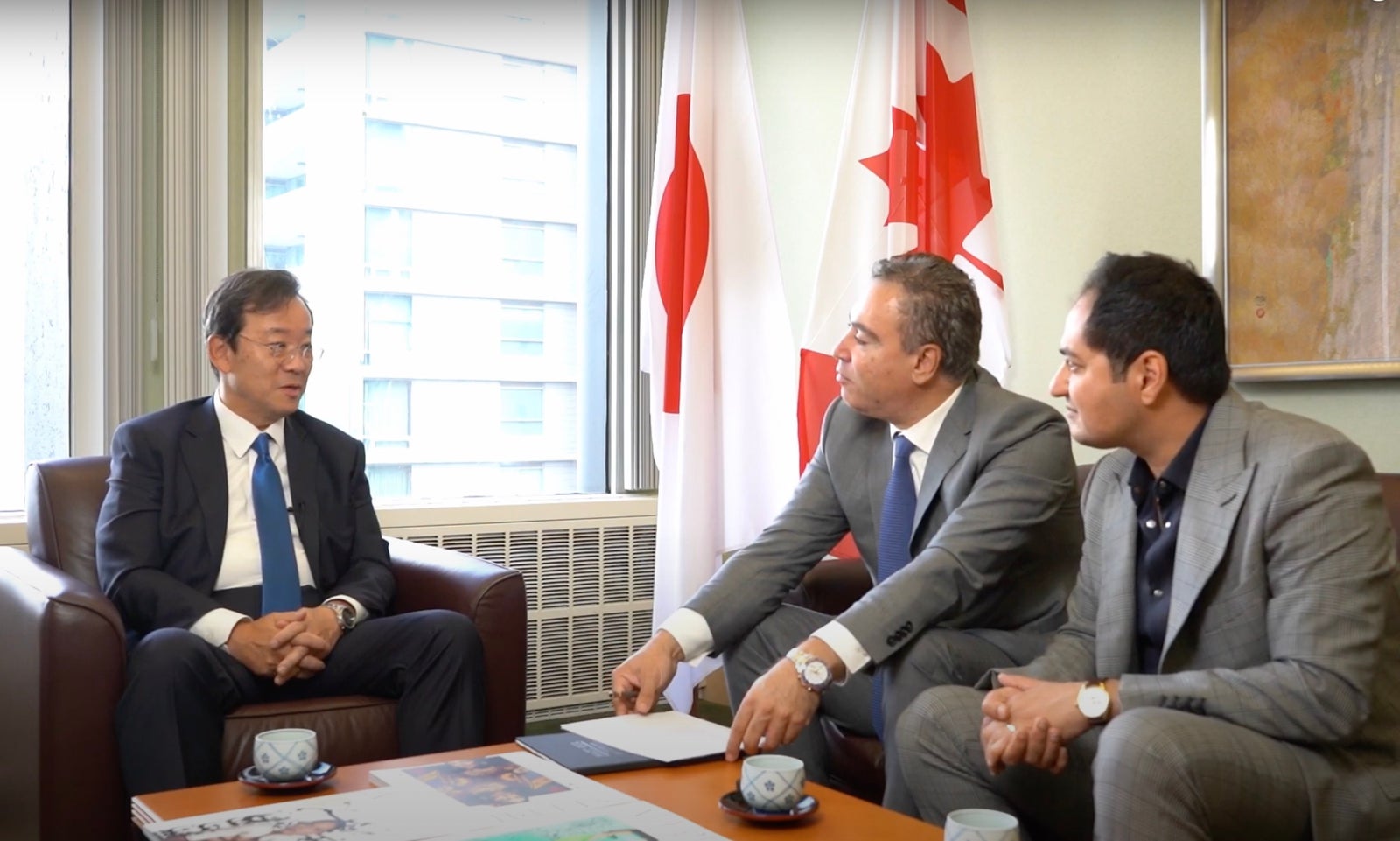 Mr. Takashi Hatori, Consul General of Japan in Vancouver. 
What is the history of the Consulate General of Japan in Vancouver?
The Consulate General of Japan in Vancouver opened on June 22, 1889 – nearly four decades before official diplomatic relations between Japan and Canada commenced in 1928. It was Japan's very first foreign mission in Canada. The opening of our Consulate followed the completion of Canada's rail link to Vancouver in 1886 and the opening of the Pacific sea route between Vancouver and Yokohama in 1887 which had spurred trade between Japan and Canada and fostered the first wave of Japanese immigration to British Columbia.
What is the reason for Japan having a Consulate General in Vancouver?
Besides the Embassy in Ottawa, Japan has four consular offices in Canada: Vancouver, Calgary, Montreal, and Toronto. Given the significant Asian presence here in Vancouver, we believe the west coast is a gateway to Asia – and naturally therefore to Japan. Additionally, there are currently over 34 thousand Japanese and about 40 thousand Japanese Canadians (known as 'Nikkei' in Japanese) living in British Columbia and the Yukon. Having these strong communities of Japanese nationals and Nikkei is a great support that strengthens the bonds between our two nations even more. Thus, while we continue to strive to provide extensive and thorough consular service, our office is also responsible for the promotion of bilateral political, economic, and cultural ties in BC and the Yukon.
Japan has a total population of about 125 million people and ranks as the world's third largest economy. Besides the large market size, Japan also has very stable infrastructure, an innovative business environment, and low crime rate in general, making our country attractive not just to tourists but also to people seeking business and investment opportunities. 
Japanese culture, including art, media, cuisine, and much more, is well known and enjoyed all over the world. In a typical year, millions of tourists visit Japan to experience the modern cities, as well as the natural scenic beauty of the mountains and ocean. Japan is a country with an interesting mix of high-tech modernity rooted in tradition. For example, it's not unusual to take the high-speed bullet train to visit an historical temple or shrine. It's an experience unlike most anywhere else in the world.
How can we experience Japanese culture here in BC?
The Consulate General of Japan in Vancouver holds a variety of exciting cultural activities that engage the public throughout the year. These include showing free Japanese films at local theatres in collaboration with the Japan Foundation, setting up culture- and travel-related information booths at major local festivals (e.g. Powell Street Festival, Sakura Days Japan Fair, Matsuri, Surrey Fusion Festival, etc.), co-hosting the BC Japanese Speech Contest in partnership with its organizing committee, and helping run the Metro Vancouver Japan Bowl (a quiz competition about Japanese language and culture) with the Japan Exchange and Teaching Alumni Association of British Columbia & Yukon (JETAABC). 
Our longest-standing outreach program called 'Touch of Japan' is geared-toward elementary and secondary schools in Greater Vancouver whom we visit in order to introduce students to the fun and educational world of traditional Japanese arts and culture, such as origami paper folding, ikebana flower arrangement, odori dance, and washoku food culture. Our goal is to offer Canadians of all ages and backgrounds an authentic experience of Japan!
Opportunities to live, work, and/or study in Japan: What are the JET Programme and MEXT Scholarships?
The Japan Exchange and Teaching (JET) Programme is a Japanese government sponsored exchange programme that offers participants the opportunities to work in Japan as an Assistant Language Teacher (ALT) in schools, a Coordinator for International Relations (CIR), or a Sports Exchange Advisor (SEA) in selected local governments in Japan. The JET Programme started in 1987 with cooperation from participating country governments. In 2019, 5,761 participants joined the programme from 57 countries.
Japan's Ministry of Education, Culture, Sports, Science and Technology (MEXT) also offers scholarships to international students who wish to study at Japanese universities. Many Japanese universities offer a range of courses and degree programs in English, and students have the opportunities to learn from the top professors in their fields, while experiencing Japanese culture. 
For further information, please email us at: culture@vc.mofa.go.jp, or call us at 604-684-5868.
Japan, it's just around the corner! 
-
Matt Gul PREC
West Vancouver Realtor
Vancouver Waterfront Listings & Vancouver Luxury Listings
778.888.8888