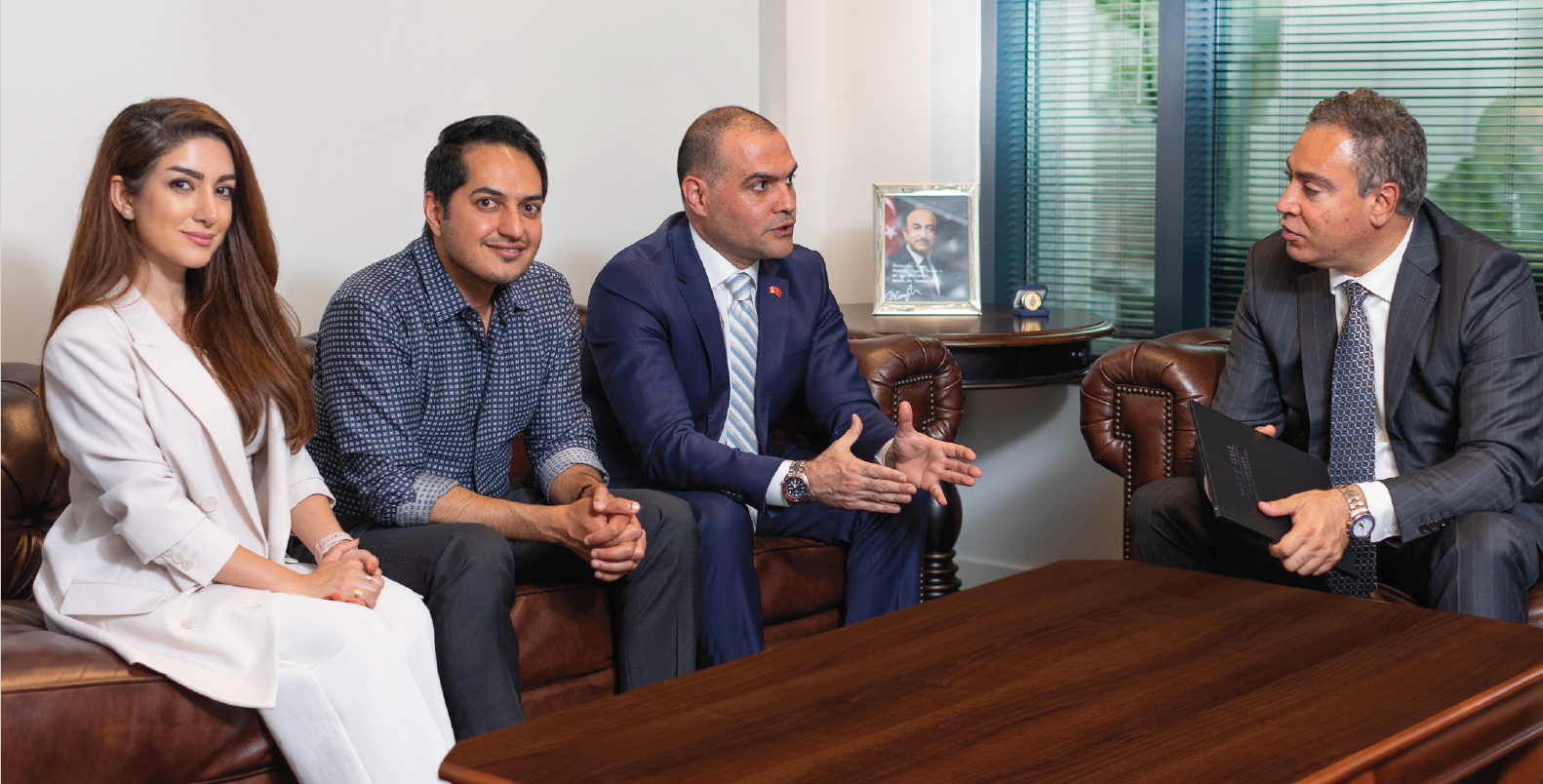 Welcome to Vancouver! How long has Turkey had a consulate in Vancouver and when were you appointed? 
Thank you and thank you for the opportunity to be in your magazine. The Consulate General in Vancouver was opened in September 2015. I am the second Consul General and have started my tenure in September 2019. 
Is there a huge Turkish community in BC? What is the reason for Turkey having a Consulate General in Vancouver? 
Turkish community in BC is growing yet it is still less than ten thousand. Besides our Embassy in Ottawa, Turkey has consular missions in three cities in Canada which are Vancouver, Toronto and Montreal. Our Consulate General is responsible of five provinces, namely BC, Alberta, Saskatchewan, Yukon, and Northwest Territories. One of our motivations in opening a Consulate General was expanding our consular network to Western Canada, providing consular services both to Turkish citizens and Canadians. Needless to say, Canadian Turks living in the western half of Canada, who were previously registered to our Consulate General in Toronto and had to travel back and forth for some notary appointments or issuance of ID documents are very happy with the establishment of our mission here. 
Turkish Airlines have recently started direct flights to Istanbul from Vancouver, can you please tell us about that? 
In addition to expanding our consular service network, we are determined to increase our bilateral relations with Western Canada in every field. Turkey is still not much known at this side of the country and we are here to promote it as it deserves so with natural, historical and cultural riches it possesses. An important part of this strategy was establishing a direct flight route between Vancouver and İstanbul. After a delay of 11 months due to the global pandemic, our national flag carrier, Turkish Airlines had started direct flights between two cities as of May 2nd this year. It is a very new route but as the pandemic restrictions ease up in the coming months, we will see how direct flights facilitate growth of economic, touristic and cultural relations between Turkey and Western Canada. 
Turkish Airlines has allocated a very modern aircraft for the route and you can arrive to İstanbul just under 12 hours. Moreover, as an international hub, newly opened İstanbul airport offers more than 300 destinations in Europe, Middle East, and Africa within three hours of flight time. Therefore, not only travelling to Turkey but also the ease of reaching third countries via İstanbul hub will make BC residents acknowledge the true value of this new route. 
By the way, since we constantly receive similar questions, I will seize this opportunity to inform fellow readers that prior to travel to Turkey, Canadian passport holders need to obtain their e-visas through www.evisa.gov.tr; whereas blue Travel Document holders need to fill out the visa application form at www.visa.gov.tr and get their appointment for an interview at the Consulate. My staff assists all related inquiries either through phone or e-mail.
That direct flight is going to boost tourism to Turkey and Turkish Medical Tourism as well, can you tell us a little bit about this? 
Turkey with its famous hospitality culture has the biggest and most modern five star hotel infrastructure in Europe. We offer a huge selection of boutique as well as all inclusive package deals which are more preferable by families with children. But our guests can go beyond sun and sea tourism and explore the incredibly rich history and culture our country harbours as well. Before the global pandemic Turkey was hosting 36 million guests a year and there is no reason to go beyond that in coming years. 
Additionally, for more than a decade a new feature has also gained momentum: Turkey has a very strong health infrastructure and it became the center of attraction for patients from Europe and the Middle East for a wide array of medical treatments ranging from plastic surgery to dental treatment and more complex treatments such as In Vitro Fertilization with globally competitive prices. Even before the arrival of Turkish Airlines to Vancouver, through visa interviews we have seen a steady flow of persons who seek treatment in Turkey in aforementioned categories regardless of the restrictions imposed due to the global pandemic. Accordingly, in the post-pandemic period I expect to see at least three fold increase in medical tourism from Vancouver thanks to the direct flights. Imagine getting the private treatment you wish at a time of your choosing with air travel, lodging and vacation combined costing less than Canada. 
Can you tell us about investing in Turkey? 
Turkey is one of the fastest growing economies in the world with an average annual GDP growth of 5,1%. In the first quarter of 2021, Turkish economy grew 7,5%. From legislative point of view, Turkey has a liberal investment climate with a clear foreign direct investment law which is simple and complies with international standards while offering equal treatment for all investors. It takes only 7 days to setup a company. A wide range of state incentives are also available for investors. 
Secondly, Turkey has a geostrategic location with easy access to big markets. It is the only non-EU member country which is in the EU customs union that enables easy access to the European market of 510 million people. Turkey's population is 84 million with half of it being under the age of 33 and it's young, dynamic and growing population is another attractive factor for investors. While having a sizeable consumer base, Turkey also offers a skilled and competitive work force especially in terms of qualified engineers and senior managers. Moreover, Turkey concluded Free Trade Agreements with 27 countries totalling a market of 355 million people. Hence, investors in Turkey have the ability to easily reach almost one billion consumers. 
Is it true that foreign investors are able to acquire Turkish Citizenship through buying property? 
Indeed, anyone who purchases a property in Turkey with a minimum value of 250.000USD is entitled to Turkish citizenship along with the family members. The process roughly takes 60 days and the condition is to keep the property at least for three years. 
Finally, we know Turkish films and series are getting more and more popular, even on major streaming services we can access them, please tell us what is behind the success story regarding the Turkish film industry. 
Turkish productions have transformed into export products almost two decades ago. Turkish series first became popular in the Middle East. Back then everyone commented that the key to success was the cultural similarities. But then European audiences have explored Turkish productions and gave similar positive reactions. Turkish series have also penetrated Latin American market and are already capturing attention of Canadian audience. Just as I had been doing in my previous postings, here in Canada I am responding to emails we receive about Turkish series and questions regarding İstanbul and other locations to visit. I think their success is a blend of charming locations, actors and a strong script which generally shocks and grasps the audience from the outset. And of course romance is always there. 
In conclusion, I would like to thank again for the opportunity to reach your select readers and wish Aleph every success in its publishing life. Our Consulate General's doors are open and we are ready to help in all matters we can. 
Matt Gul PREC
West Vancouver Realtor
-
West Vancouver Waterfront Listings & West Vancouver Luxury Listings
-
778.888.8888
Turkish Consulate Vancouver Canada,
 Real Estate Investment in Turkey, Real Estate Investment in Vancouver, Vancouver Turkish Consulate, Turkish Consulate, Turkish Canadian, Turkish Citizenship by Investment, Citizenship by Investment, Vancouver Real Estate, Vancouver ev almak, Vancouver Turkish Society, Turkish  Vancouver Canada, Turk emlakci Vancouver, Emlakci Vancouver Canada, Emlak Vancouver, Vancouver Turk Konsoloslugu, Matt Gul, West Vancouver Real Estate, West Vancouver Realtor, West Vancouver Luxury Real Estate,