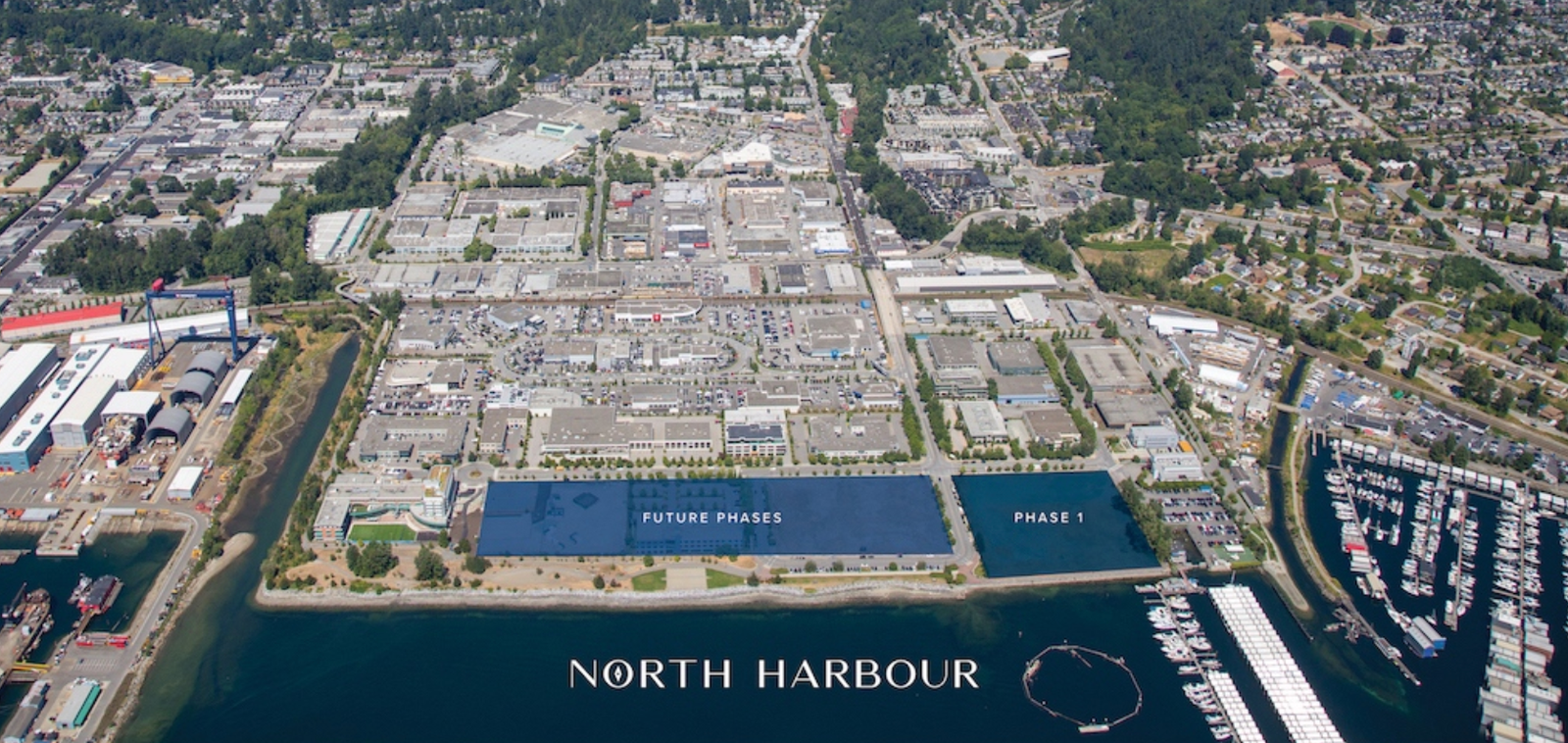 North Harbour spans a third of a mile of waterfront and will include 290,000 square feet of commercial space and more than 900 homes on the 12-acre site.

North Harbour will be the largest North Vancouver development in decades.
The planning began a decade ago and was approved by the city council seven years ago.
Council properties have started its massive North Harbour waterfront development in North Vancouver which is the largest city project in decades!
The development of North Harbour is going to begin on the eastern edge of the community. It will consist of four buildings which will include 164 condominiums and townhomes in a nine-storey tower.
The entire plans consist of this:
- 12-acre master-planned community

- 18 mid-rise residential buildings, alongside approximately 290,000 SQFT of retail, restaurants and office space.
- 700 condominium homes
- 110 rental homes in a 10-storey building
- 125 seniors housing units.
Prices:
1 Bedrooms

Starting From: $669,900
2 Bedrooms
Starting From: $979,900
3 Bedrooms
Starting From: $1,879,900
Townhouses
Starting From: $1,209,900
The development of North Harbour could take 10 to 15 years to complete.
There will be no light industrial buildings and all of the commercial space will be leased, not sold as strata, according to Brian McCauley, president and CEO of Concert.
After the completion of North Harbour, Concert will manage the 80,000 square feet rental building at North Harbour.
North Harbour has an excellent location, located at Fell Avenue and Harbourside Drive. It is along the Burrard Inlet shoreline and is not far from the SeaBus station which will bring you directly to downtown Vancouver. 
If you would like to learn more about North Harbour in North Vancouver or if you are thinking about buying or selling your properties, please contact Matt Gul, who is a top luxury real estate agent situated in West Vancouver, who can help you with all of your needs. To contact Matt Gul please call him at 778.888.8888 or email him at matt@mattgul.com
Summarized by: Onur Gul on Instagram at @onurgulfilm