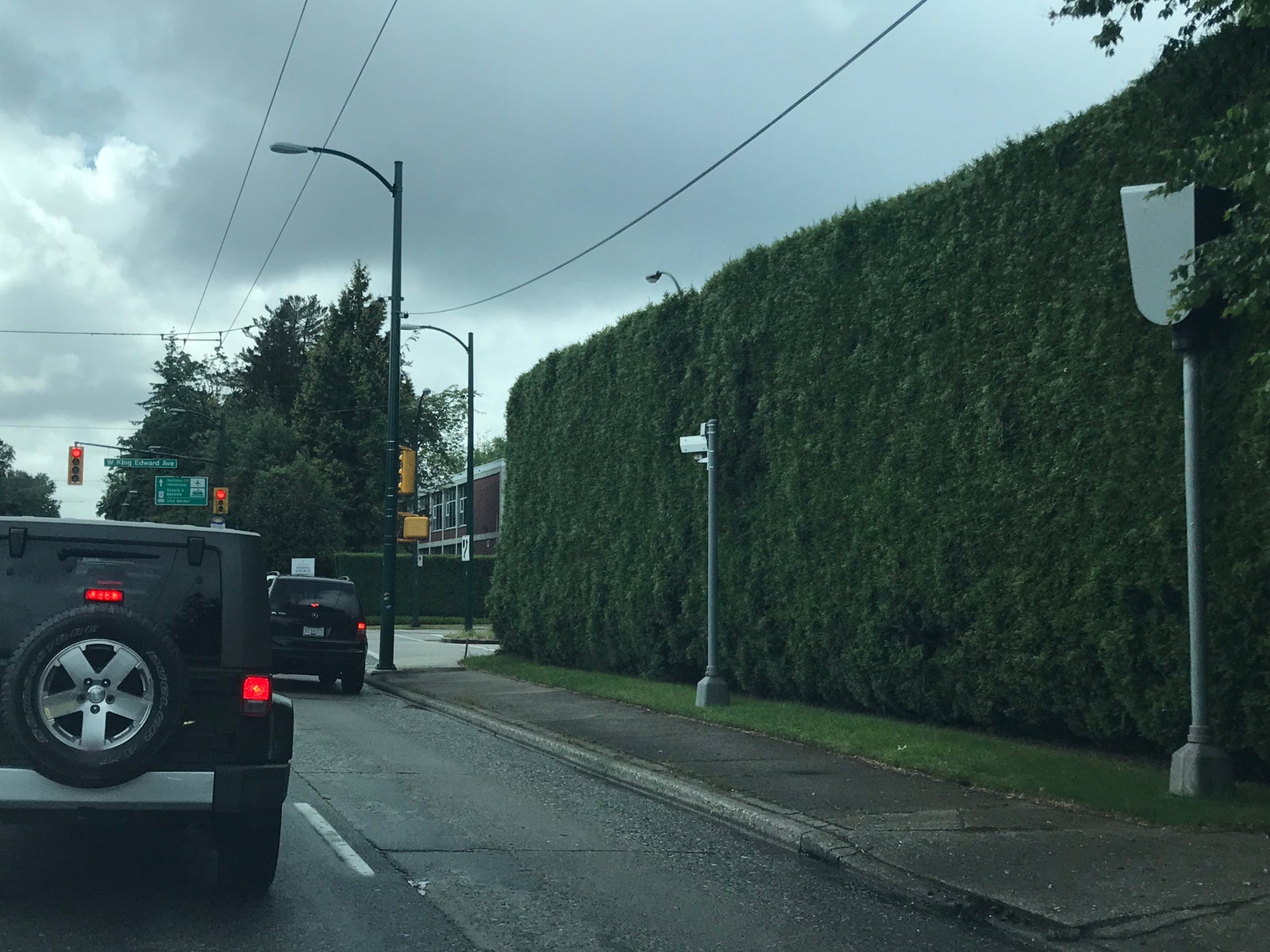 Vancouver has new speed camera's under B.C.'s Intersection Safety Camera Program
Do you know where the new Vancouver speed cameras are located? In Vancouver, we have new speed cameras that are in place watching Vancouverites. You have to be extra careful if you don't know where they are located. There are two ways to learn, by taking a glance at the intersections below, or by receiving your first ticket. We think the first option is better, I know that you are busy but it is worth it to learn. 
Speed cameras are located at interactions alongside red light cameras, if you have the bad habit of accelerating your speed as you approach an intersection to make the green light before it turns yellow, it's time to fix that bad habit.
The city operates intersection safety cameras at high-risk intersections, 24 hours a day, seven days a week throughout Vancouver.

The cameras are proven to be effective at reducing side-impact, head-on and pedestrian crashes, and are located where red light running and high speed cause serious crashes.
Excessive speeding in BC is defined in the Motor Vehicle Act as driving at a speed greater than 40 km/h over the speed limit. ICBC and the police treat these violations very harshly. Even one ticket can trigger a further lengthy driving prohibition. - BC Driving Lawyers

Automatic Ticketing Locations
West Georgia Street & Cardero Street - Downtown Vancouver
Main Street & East Hastings Street - Downtown Vancouver
Granville Street & West King Edward Avenue - Vancouver
East 49th Avenue & Boundary Road - Vancouver
Renfrew Street & East Hastings Street - Vancouver
Grandview Highway & Rupert Street - Vancouver
Joyce Street & Kingsway - Vancouver
Kingsway & Victoria Drive - Vancouver
Knight Street & East 33rd Avenue - Vancouver
West 57th Avenue & Oak Street - Vancouver
West 70th Avenue & Oak Street - Vancouver
Kerr Street & Southeast Marine Drive - Vancouver
Marine Drive & Capilano Road - North Vancouver
Boundary Road & Kingsway - Burnaby
Royal Oak Avenue & Kingsway - Burnaby
Deer Lake Parkway & Willingdon Avenue - Burnaby
British Columbia 7A & Mariner Way - Coquitlam
64 Avenue & 200 Street - Langley
British Columbia 10 & Fraser Highway - Langley
British Columbia 7 & 207 Street - Maple Ridge
British Columbia 7 & Old Dewdney Trunk Road - Pitt Meadows
Shaughnessy Street & Lougheed Highway - Port Coquitlam
Cambie Road & Garden City Road - Richmond
88 Avenue & 128 Street - Surrey
96 Avenue & 152 Street - Surrey
King George Boulevard & 152 Street - Surrey
152 Street & 64 Avenue - Surrey 
96 Avenue & 132 Street - Surrey
King George Boulevard & 104 Avenue - Surrey
King George Boulevard & 80 Avenue - Surrey
84 Avenue & Nordel Way - Delta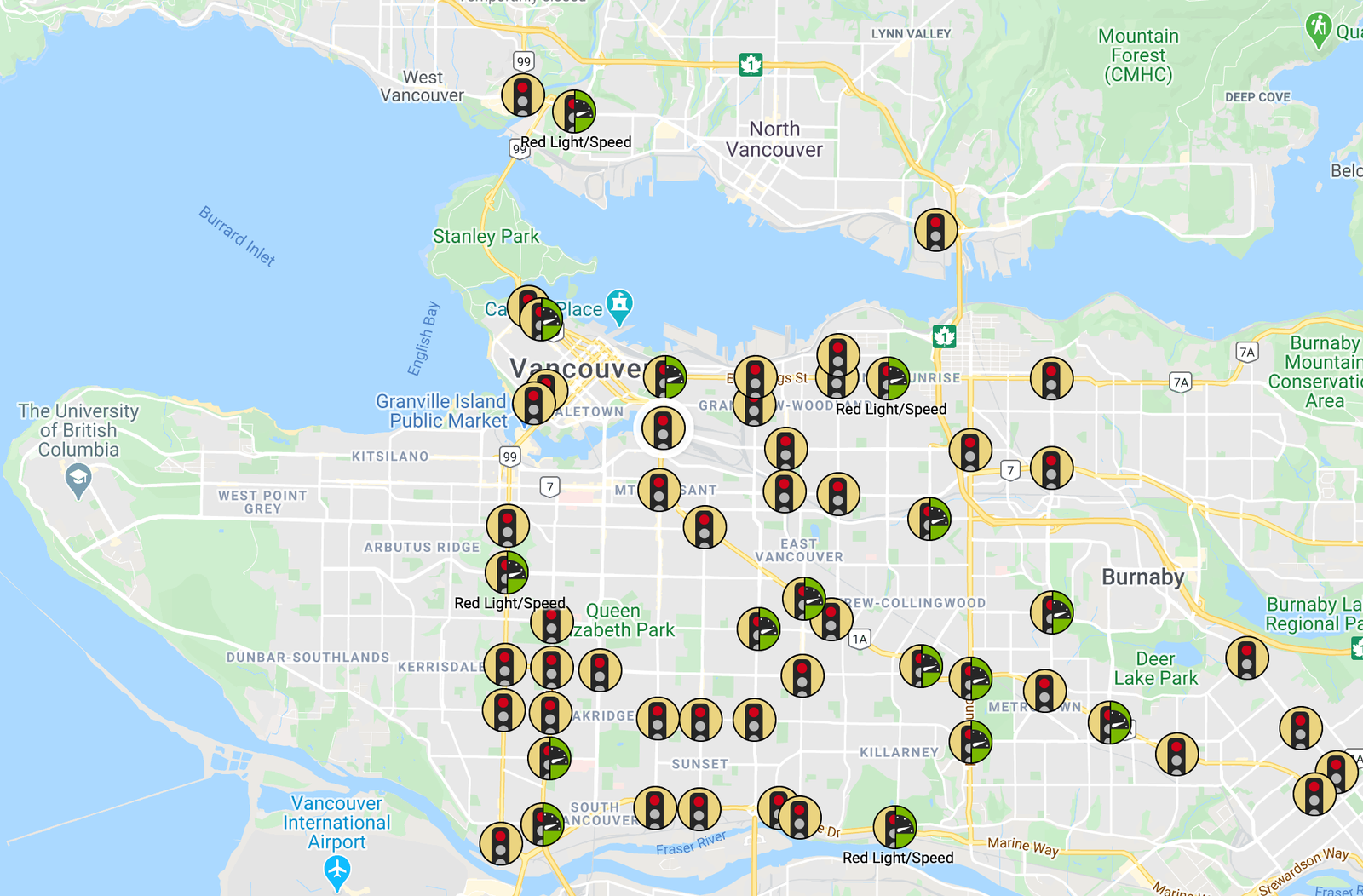 However, if you were wondering how much the fees are for excessive speeding tickets were, we have you covered.
In B.C. excessive speeding is defined as driving at a speed which is greater than 40km/h over the speed limit the driver is on. Excessive speeding is not a joke, and ICBC and the police take cases of these very seriously, even receiving one of these tickets could hand you a further lengthy driving prohibition.
An excessive speeding ticket is very different from your regular speeding tickets. If you are caught normally excessive speeding which is going over 40km/h from the speed limit, you will receive a ticket for $368. However if the police say that you were driving at a speed of 60+km/h over the speed limit, the fine will raise $115 to $483. And even if you receive your first ticket and it is an excessive speeding ticket, ICBC will require you to pay a Driver Risk Premium (DRP).
On your birthday, ICBC looks at your driving record from the past three years. If you had received an excessive speeding violation in BC, you will be fined $320 yearly for three consecutive years. This is an additional $960 from the $368 or $483 fine that you had already paid. Make sure to keep in mind that the DRP is apid in addition to your insurance cost.
However, it does not end yet, when you receive an excessive speeding ticket, even if it's your first time, your car will be impounded for seven days. And if this is somehow not your first, the impoundment can increase from 30 to even 60 days. And along with this, you would also be charged of a towing fee from $70 to $120, depending on your towing company. And of course, storage fees which are typically $12/day.
Now do not forget, although the ticket ranges from $368 - $483, in the end, an Excessive speeding charge in BC will cost you around $1,500! This ticket will stay on your ICBC driving record for the next five years, and the driver must have a minimum of seven days of vehicle impoundment.
Our advice? Just follow the speed limit, and you will never have to worry about these very expensive charges.