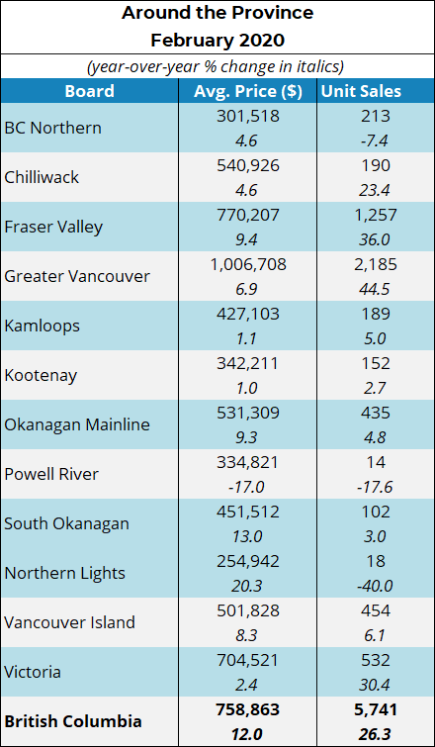 Above is a chart of sales and prices in regions of Canada.

British Columbia had an average home sale price in February which was 12 per cent higher year-over-year. On sales that were up 26.3 per cent.
B.C. as you already know had major difficulties with its real estate market. However it has been recovering recently and continued to do so in the month of February. With the total value of all home sales at $4.4 billion, this is up 41.4 per cent year-over-year, the British Columbia Real Estate Association (BCREA) reported March 12.
There were 5,741 residential unit sales which were recorded by B.C.'s MLS last month, this is a 26.3 per cent year-over-year increase. Along with this the average MLS sale price in B.C. in February was $758,863, this is also an increase, with 12 percent year-over-year.
Yet although these seem like major improvements, the beginning of 2019 was a very weak period for the real estate market in British Columbia, and now with these improvements we are nearing a normal real estate market.
However, all that improvement is in comparison to the weak activity seen in early 2019, and merely brings the provincial real estate market back to normal levels.
"Housing markets in BC continued to trend near long-term average levels in February," said Brendon Ogmundson, BCREA's chief economist. "Recent declines in mortgage rates and favourable changes to mortgage qualifying rules may provide a boost to home sales heading into the spring, although there is significant economic uncertainty lingering over the outlook."
With the total amount of British Columbia MLS home listings down 8.3 per cent year-over-year and, with sales increasing. The ratio of sales-to-active residential listings across B.C. had risen 20.3 per cent. The market is quite balanced however, as it is considered a seller's market only when the ratio is above 20 per cent for several months.
However you do need to pay attention at individual real estate markets, as some recover more than others, and some markets continue to struggle.
Greater Vancouver had seen the biggest sales increase, yet not the biggest price rises, this is a very good sign for the Vancouver real estate market. 
The average sale prices rose on an annual basis in every B.C. market except for one, Powell River where it is small enough to see large percentage changes in sales and prices, and therefore does not indicate a trend. However of the largest of markets, the highest annual price rise was in the Fraser Valley, up 9.4 per cent, followed by Okanagan Mainline, and Vancouver Island.
If you would like to learn more about how the real estate markets in B.C. had changed in February or, if you are thinking about buying or selling properties, please contact Matt Gul, who is a top luxury real estate agent situated in West Vancouver, who can help you with all of your needs. To contact Matt Gul please call him at 778.888.8888 or email him at matt@mattgul.com
Summarized by: Onur Gul on instagram at @onurgulfilm