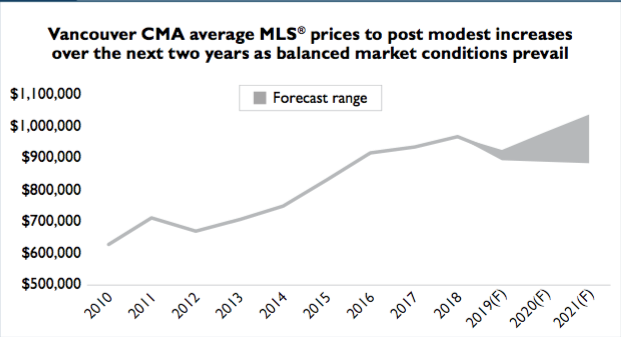 The Canada Mortgage and Housing Corporation report predicts Metro Vancouver will have a balanced housing market, with moderate increases to home prices.
According to a Canada Mortgage and Housing Corporation forecasts Metro Vancouver should keep their eyes out on seeing higher sales and quite modest price changes (increases) over the next two years.
The Canadian Mortgage and Housing Corporation (CHMC) report was released Thursday, in this report they talk about how Metro Vancouver's housing market could end up balancing throughout 2020 and 2021 due to population growth and forecasts income.
"While inventories of homes for sale are expected to decline slightly as sales increase, a growing number of newly constructed homes coming onto the resale market will help keep market conditions balanced overall through the end of the forecast horizon," the report says of the Metro Vancouver region.
However due to the new B-20 stress test which is a list or mortgage qualification rules, the borrowing capacity of some home buyers will be limited, this will end up limiting price growth as well. Although the report also says that greater discounts on mortgage interest rates will lend support to the housing market.
CMHC predicts the average price of a home in Metro Vancouver in 2020 will go as high as $983,000 and up to just over $1 million in 2021. Currently in Metro Vancouver the average of $928,000 in 2019, $966,866 in 2018, and $934,977 in 2017.
Townhouses and condominiums with prices under $700,000 in Metro Vancouver are expected to see the strongest demand, while the single-detached market is expected to remain soft, particularly with higher-end, multi-million dollar homes. As people are looking for more affordable homes.
The CMHC also says that new condominium developments in Metro Vancouver should be expecting to see better pre sale activity, with higher pre sales this could lead to much more encouragement in general for new developments of condos.
Renters, however, will continue to feel the pinch in the region with rental rates expected to increase faster than inflation. Rental demand will remain high throughout the forecast period, CMHC says, resulting in continued low vacancy rates and rising rents across the region.
The CMHC outlook forecasts Canadian housing market activity for the years of 2020 and 2021.
The report says multi-family construction will account for the vast majority of new units as densification continues. Housing starts are expected to register a second consecutive annual decline in 2019 before stabilizing in 2020 and 2021.
If you would like to learn more about how the Metro Vancouver market can change in the next two years, or if you are thinking about buying or selling your properties, please contact Matt Gul, who is a top luxury real estate agent situated in West Vancouver, who can help you with all of your needs. To contact Matt Gul please call him at 778.888.8888 or email him at matt@mattgul.com
Summarized by: Onur Gul on instagram at @onurgulfilm