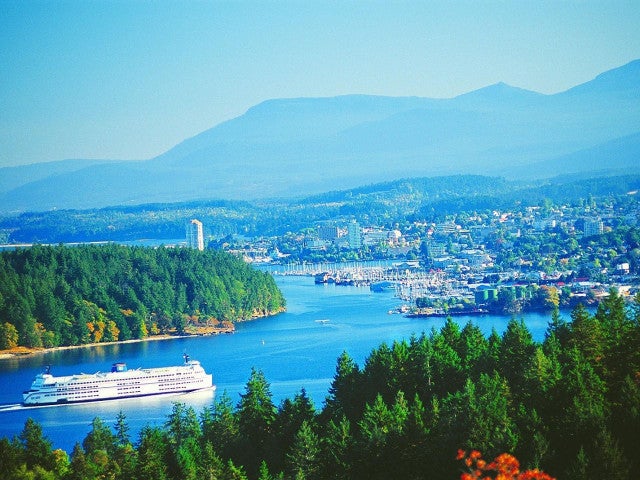 Nanaimo's tax incentives and population growth are credited for record-setting building permits this year. Image supplied by CBRE Victoria

Victoria is facing big-city problems – and potential – as an industrial land shortage and white-hot demand for office and retail space characterize B.C.'s capital city, the province's strongest commercial real estate market outside of the Lower Mainland.

Currently, up on Vancouver Island, Nanaimo is setting records for building permits, while giant mothballed projects from Colwood to Comox and Ucluelet are shaking off the dust and putting stakes in the ground.
All of this is related to the population growth in one of the fastest-growing regions in Canada, with estimates of the population of the central Island alone forecast to surpass half a million people within the next 10 years, from 460,000 today, according to BC Statistics. Construction is now the Island's second-largest employer, said Woody Hayes, former president of the Institute of Chartered Accountants of BC, who helped compile a recent check-up on the Island's economy.
In downtown Victoria, the office vacancy rate began the year at 6.4 per cent, down from 7.2 per cent a year earlier, according to CBRE, Even though it has already dropped down .6 per cent it could drop to below 6 per cent this year, even though there is an addition of 280,000 square feet of new space in 2018.
"There's a particular demand from government for Class A office space." said Elyse Norgaard Kituri, chair of the Victoria chapter of the Building Owners and Managers Association of BC. 

With even more additions coming to office space is the Merchant House Capital makeover of the former Times Colonist building on Douglas Street, which is being transformed into 120,000 square feet of office space and about 10,000 square-feet of retail, including a brewpub, as the Victoria Press Building.
Russ Marshall, senior vice-president with CBRE Victoria, said Greater Victoria is attracting investors and developers from the Lower Mainland searching for higher yields.
In the West Shore community of Colwood, Vancouver-based Onni is well into construction of Colwood Corners, a mixed-use development the company rescued from default five years ago. Scheduled to complete in 2021, the development will include 152,000 square feet of commercial space and, eventually, more than 450 homes.
Onni is also behind the resurrection of a 360-acre mixed-use, residential-heavy waterfront development at Ucluelet on the Island's West Coast, where Onni purchased the bankrupt Wyndansea project in 2015.
In the Comox Valley, the former Kensington Island Properties development, which shut down nearly a decade ago, has been revised as Union Bay Estates, which could become the largest Island real estate development north of Victoria. Plans call for more than 2,900 homes on the 349-acre site, in a number of phases.
But while land clearing is visible on the property, no infrastructure has been put in place, according to Jennifer Steel, manager of corporate communications for the Comox Valley Regional District, which provided an updated master development agreement for the project two years ago.
The agreement details community amenities that the developer will provide as well as the installation of infrastructure to ensure road, water and sewer servicing are available to the lands.
However attempts to reach the Union Bay developer were unsuccessful.
There is no such ambiguity in Nanaimo, where a record-setting construction pace is well underway in the Island's second-largest city.
As of the end of June, Nanaimo's building permit values had already hit $300 million. That is compared to $216 million in all of 2018, according to Arit Manhas, Nanaimo's economic development officer.
While 75 per cent of the new construction is residential, Manhas noted that three new hotels are also underway, including a $22 million, 172-room Four Points by Sheraton being built next to city's conference centre.
Other non-residential projects include a $12 million private medical office complex and "skyrocketing" construction at the Nanaimo Airport, led by a $15 million expansion project.
Meanwhile the Port of Nanaimo is on its way of starting a $34 million upgrade that will increase marina capacity by over 50 per cent.
Current Nanaimo housing projects total nearly 700 of units. Much of the work is downtown, where the city provides a 10-year property tax exemption for eligible residential and commercial projects.
The number of permits could increase dramatically when development starts on One Terminal Avenue, a high-density, mixed-use, 7.16-acre waterfront site in downtown Nanaimo, now accepting developer bids expected to top $20 million range.
Average home prices in Nanaimo are in the $565,000 range, about half that of Metro Vancouver.
Hayes, who worked with the Chartered Professional Accountants of British Columbia on a 2019 study of the Island's economy, is not surprised that residential, tourism and service-related projects dominate Island development.
Vancouver Island's former industries, like forestry, have "imploded" and manufacturing has never been as important as government and the service sector, Hayes noted. "The Island economy is now based on an influx of people from across Canada, including from Metro Vancouver," he said.
Also if you are thinking about buying or selling your properties, please contact Matt Gul, who is a top luxury real estate agent situated in West Vancouver, who can help you with all of your needs. To contact Matt Gul please call him at 778.888.8888 or email him at matt@mattgul.com
Summarized by: Onur Gul on instagram at @onurguldrone