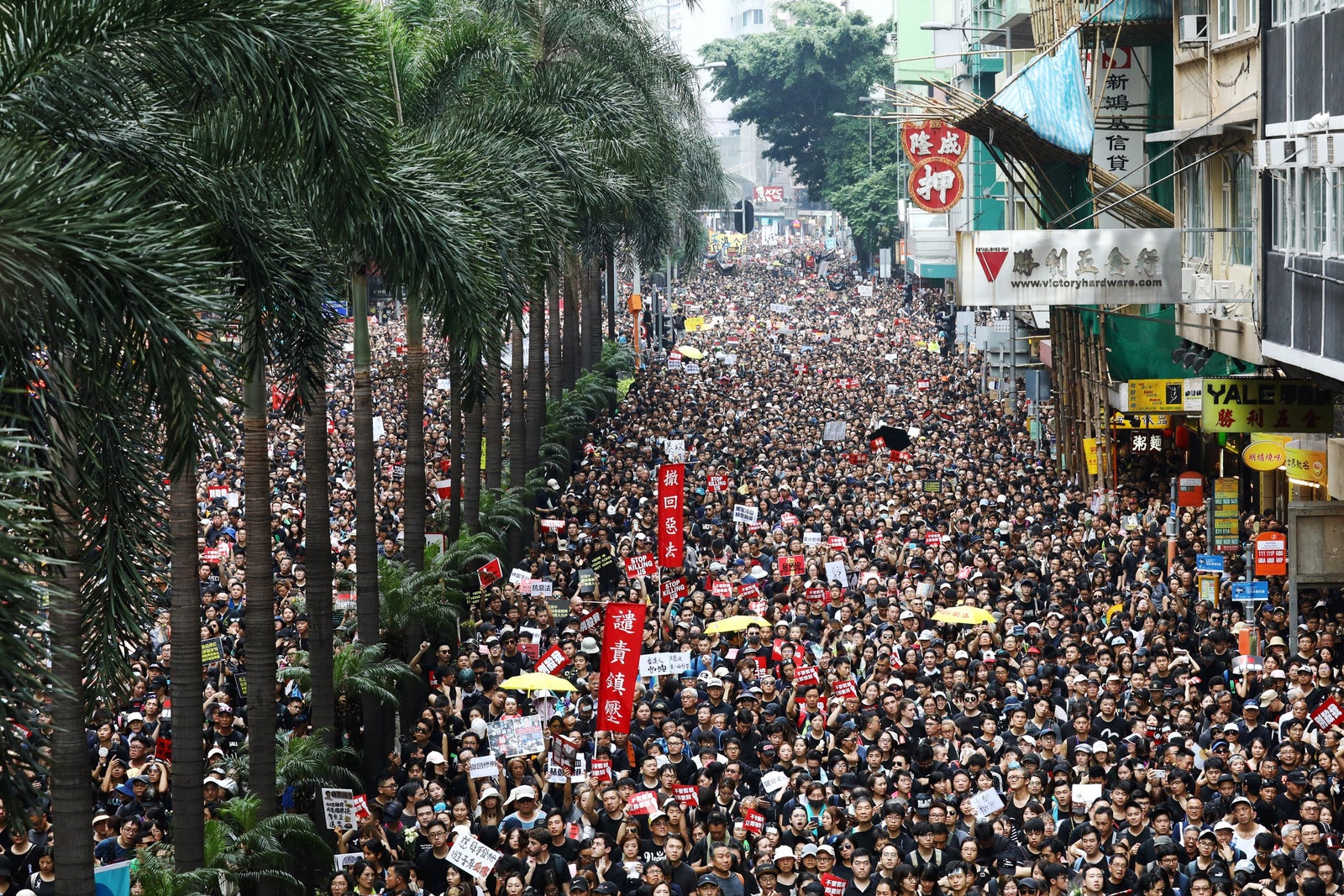 As the ongoing political crisis in Hong Kong over the planned extradition bill to China continues to evolve and worsen, the conditions are building up for a possible mass migration of Canadians living in Hong Kong to return to Vancouver.
If this extradition bill ends up being passed, a substantial number of the estimated 300,000 Canadians currently living in Hong Kong could easily make a quick return to Canada, with most of them heading to Metro Vancouver.
With this amount of influx, it could create a resurgence in Metro Vancouver's housing market. In fact, within just the last few weeks, there has been a visible increase in interest in local homes from Hong Kong buyers.
Dan Scarrow, the president of Macdonald Real Estate Group, told Daily Hive his firm has seen a "noticeable uptick" in the number of Hong Kong buyers at open houses since the protests in Hong Kong began on June 4.
"Because these protests only started recently, I would suspect that most already have strong ties to Canada and this is motivating them to deepen their ties here," said Scarrow.
As these are Canadian citizens, and for the most part dual citizens of Canada and the Hong Kong Special Administrative Region (SAR), they are exempt from the foreign buyers' tax and will not be subject to the new speculation and vacancy tax.
These Canadians living in Hong Kong may also own homes in the former British colony, where average home prices currently hover at a staggering $1.63 million for even small living spaces.
Housing is in high demand in Hong Kong and as a result, Canadian homeowners there could theoretically sell their property quickly and move their capital to Vancouver to buy real estate.
Scarrow notes foreign currency exchange rules only apply to Mainland China; Canadians returning from Hong Kong and Taiwan will "have no problem moving a significant amount of money back to Canada." This means that purchasing a home in Metro Vancouver is easy and accessible for them.
The proposed extradition bill amounts to the early disintegration of the 'one country, two systems' principle that provides Hong Kong with limited autonomy, separate from Mainland China and the Communist Party in Beijing. This system of governance, lasting for 50 years until 2047, was secured by the British government as a condition of Hong Kong's 1997 handover to China.
Anyone in Hong Kong — local citizens and visitors, including Canadians — accused of committing a crime by the Chinese government could be sent to Mainland China to face trial under Chinese law, which is known for its arbitrary nature — used as a tool to control political dissent.
Due to the public uproar, the Hong Kong government made a decision earlier this week to temporarily pause its work towards the passing of the extradition bill, which was expected to go through its final reading this month. However this proposed law is far from dead, even plenty of political analysts are fully expecting the bill to make a return later this year.
"It's been well documented that the 1997 handover was one of the pivotal events that have shaped Vancouver over the past 30 years," said Scarrow.
"This has the potential to be just as impactful. After all, regardless of the result of these protests on the extradition legislation, this whole episode is reminding Hong Kongers that they will be 100% Mainland Chinese within 28 years.
"This episode may be a catalyst for a surge in Hong Kong interest in Canada immediately, or it may be over a more extended period of time."
Metro Vancouver's significant population of Hong Kong citizens, largely gained from the decades-long lead-up to the 1997 handover and the aftermath of the Tiananmen Square Massacre, serve as a welcoming global hub for the residents of the former British colony.
There are also enormous economic and air transportation ties between the two cities; there are approximately 50 weekly direct, non-stop flights — operated by Cathay Pacific, Air Canada, and Hong Kong Airlines — between Hong Kong and Vancouver.
Supported by Vancouver's large Chinese population and the city's strategic location as a gateway into North America, it is one of Vancouver's most frequent and longest-running overseas flight routes. This makes it even more accessible for the pupils from Hong Kong.
Bruce Harwood, an immigration lawyer for Boughton Law, added that these Canadians in Hong Kong could also take advantage of the North America Free Trade Agreement (NAFTA still in force as Donald Trump's USMCA has yet to be ratified), which provides them with a right to access the United States through their investor category for work permits.
But for anyone in Hong Kong who is not already a Canadian citizen or permanent resident, there are now greater hurdles to achieve these statuses.
During the migration tides of the 1980s and 1990s, many Hong Kong residents entered Canada through the decades-long, cash-to-visa Immigrant Investor Program, However this ended up being terminated by Stephen Harper in 2014.
Harwood says the provincial governments now have a greater role in accepting immigrants. Those who wish to enter BC through the start-up visa pathway require an active role in the management of the business.
Other pathways include family sponsorship and the skilled express entry program, which is specifically for skilled workers and is based on a point system that demands a language test and evaluation of education.
"The skilled workers stream essentially runs like a lottery," said Harwood. "You acquire a certain number of points and you'll be placed in the express entry registration program for one year and the federal government determines on a month to month basis what the threshold point total will be for an invitation to apply for permanent residency."
"It is also true that if you have an offer of employment from a BC-based company, they can nominate you as a skilled worker through the BC nomination program for skilled workers."
Harwood also thinks Vancouver's stable political climate and relatively favourable investment climate could make the city a landing point for anyone leaving Hong Kong over the uncertainty.
Scarrow also highlighted the possibility of the emergence of a long-term migration trend to Canada from families who are seeking higher living standards and education opportunities. The potential source would not only be the Canadians living in Hong Kong, but also the 100,000 Canadians currently in each of Taiwan and Mainland China.
"As these people age, they will get married and have kids, meaning there could be upwards of a million people who either have Canadian status or are entitled to it who are keen to repatriate back to Canada," said Scarrow.
"Regardless, we should be preparing for a large return of Canadians from Asia over the next couple of decades."
Also if you are thinking about buying or selling your properties, please contact Matt Gul, who is a top luxury real estate agent situated in West Vancouver, who can help you with all of your needs. To contact Matt Gul please call him at 778.888.8888 or email him at matt@mattgul.com
Summarized by: Onur Gul on instagram at @onurguldrone