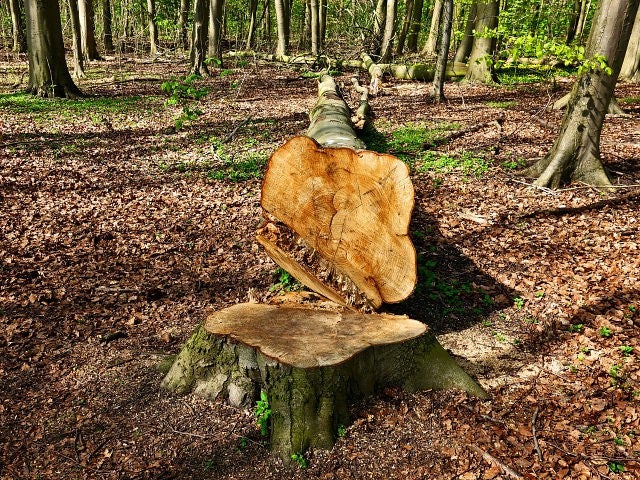 The only sound you could hear on 31st Street in West Vancouver Monday morning was the buzzing of a chainsaw from a worker who prepared to chop down the western red cedar obstructing a controversial stormwater management plan. 
After an acrimonious standoff that included a stop in B.C. Supreme Court, the chainsaw came out Monday morning as a worker started limbing a western red cedar at the foot of 31st Street in West Vancouver.
This giant tree has been a point for West Vancouverites who are opposed to the planned $16-million stormwater pipeline project, to meet up and protest. This pipeline will be running from British Pacific Properties' development above the highway down Westmount Road, Thompson Crescent and Mathers Avenue to the foot of 31st Street.
However, there were some eagles who were seen stacking twigs on a nearby tree, which gave protesters hope that the project could be paused.
"Thanks to the eagles, we may have got a stay of execution," protester Susan Bibbings said prior to work beginning.
While nesting birds are legally protected by the B.C. Wildlife Act, the eagles were tending the nest for future use and are "highly unlikely" to lay eggs this year, according to a report written by biologist Alex Sartori of Sartori Environmental, the consulting group hired by the district.
Sartori observed the nests four hours a day from Thursday to Sunday before concluding work could begin.
Protesters haven't stopped the project; however, it's possible they've delayed it, according to West Vancouver manager of community relations Kristi Merilees.
Because the pipeline construction is tethered to tidal windows, there is "some concern" the postponement will mean the project could be pushed to next year, she said.
West Vancouver is slated to pay a maximum of $6.25 million toward the project with BPP paying the remainder.
It will be at least a few weeks before the schedule can be accurately reassessed, according to Merilees.
Criticisms from protesters included charges of a lack of consultation, and accusations of the district having a cosy relationship with BPP and an outdated stormwater management plan. 
There were also pleas for the protection of the tree as well as suggestions traffic would be disrupted and real estate values would dip.
Protesters were ordered not to interfere with the project by B.C. Supreme Court Justice Nathan Smith, who concluded the court had no jurisdiction in the dispute.
"The court has no power to tell the [District] of West Vancouver how it should manage its drainage system," he said.
The project is necessary to protect more than 800 properties in the Rodgers Creek, Westmount and Altamont neighbourhoods from flooding and to handle overflow from Pipe, Westmount, Cave, Turner, and Godman creeks, according to the district. The project was recommended in the district's 2013 integrated stormwater management plan.
Also if you are thinking about buying or selling your properties, please contact Matt Gul, who is a top luxury real estate agent situated in West Vancouver, who can help you with all of your needs. To contact Matt Gul please call him at 778.888.8888 or email him at matt@mattgul.com
Summarized by: Onur Gul on instagram at @onurguldrone