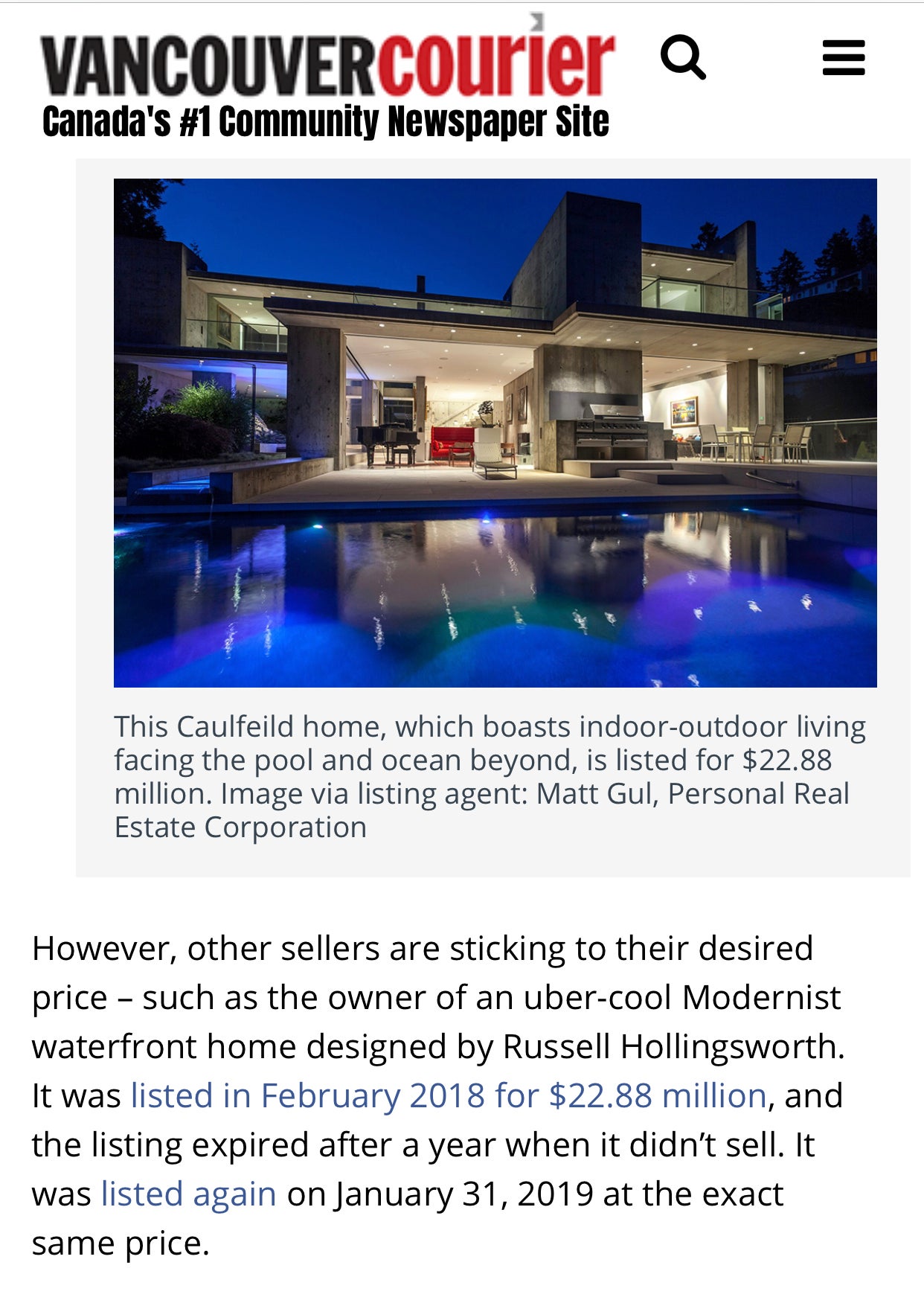 All of the 43 homes were sold below asking price, averaging 16 per cent off list, as the region's high-end homes fail to sell.
The Metro Vancouver real estate market is clearly cooling down, and nowhere is this happening faster than in the high-end detached home sector, an analysis of MLS data reveals.
In the Metro Vancouver region, which is located from Mission and Delta to the Sunshine Coast and Whistler. 
Since May 1, 2018, only 43 detached homes over $7 million have been sold.
All 43 of those houses sold for below asking, averaging a discount of 16 per cent off the list price.
This compares with 94 Metro Vancouver home sales above $7 million during the previous 12-month period of May 1, 2017 to April 30 2018 – 89 of which sold under asking. In the 12 months before that – May 1, 2016 to April 30, 2017 – there were 97 sales above $7 million, 86 of which went for lower than their list price.
The highest-priced detached sale over the past 12 months was a grand, six-bedroom mansion in Vancouver's priciest enclave of Shaughnessy, which sold for $26 million in May 2018 after six months on the market. That price may seem like a lot, but the house was listed in 2017 at $35 million, then reduced to $29,980,000. This is a 15% decrease from its first value.
After it was built, this home was listed by a different agent in April 2016 at an even higher price — $38.9 million — but did not sell at that time. Records also reveal that the property, which originally had a Tudor-style home, sold back in 2000 for $1.8 million.
However, the biggest price drop seen in the region's $7 million-plus sector over the past year was the sale of a stunning West Vancouver house which sold for $10.8 million, more than $6 million below the $16.88 million asking price. This is an enormous 36% drop in the price value.
With high-end detached homes failing to sell, owners are turning to price reductions to shift their properties. Of the 209 detached houses currently listed above $7 million on Metro Vancouver's MLS (as of May 3, 2019), a relatively few 28 have reduced their price since the home was listed.
But this does not include homes that failed to sell, were taken off the market and then quietly given a new listing at a lower price, which are much harder to quantify but seem to be numerous. Examples include a contemporary West Vancouver mansion, which was listed at $16.58 million back in July 2018 but now has a new listing at $13.6 million, and a "James Bond-style" oceanfront home, which also recently came back on the market at a $3 million discount. Even West Vancouver's historic Kew House has yet to sell at its discounted price of $13.75 million.
However, other sellers are sticking to their desired price – such as the owner of an uber-cool Modernist waterfront home designed by Russell Hollingsworth (Pictured above). It was listed in February 2018 for $22.88 million, and the listing expired after a year when it didn't sell. It was listed again on January 31, 2019 at the exact same price.
Of Metro Vancouver's 209 detached houses currently listed above $7 million, the average number of days on the market is a whopping 141 – This is much longer than it would of been a few years ago.
Ashley Smith, president of the Real Estate Board of Greater Vancouver, told Glacier Media, "We've certainly there has been a slowdown in the higher end of the market, particularly detached homes on the West Side and West Vancouver. Key to this is that we did see significant increases over the past several years. And this year has been a reflection of change. A variety of things are impacting that, such as government policy that has been implemented. There's the foreign buyer's tax, the speculation tax, the school tax, the increased property transfer tax – buyers in the high-end sector have been impacted by that."
Smith added, "Sellers of luxury homes often have different reasons and motivations for moving or selling their asset. They might not be under the same kind of pressure to sell that a family might have. So the strategy of holding to a price can work for some people – but the high expectations from the prices of the past few years might also be playing into that."
Vancouver realtor Faith Wilson, who was the listing agent on the Shaughnessy home sold for $26 million, told Glacier Media, "There's still an appetite for luxury real estate, but there's very little inventory on the West Side at the moment, and a lot more in West Vancouver. Sellers have to get into the slipstream of reality. And even if the market is adjusting, how much do you have to adjust. Sellers will be successful if they have a realtor who is fully engaged in the market, and if they are price-adjusting to find that middle ground. And buyers also have to be reasonable in their offers."
Also if you are thinking on buying or selling your properties, or would like to understand further of the most expensive homes in the Metro Vancouver area, please contact Matt Gul, who is a top luxury real estate agent situated in West Vancouver, who can help you with all of your needs. To contact Matt Gul please call him at 778.888.8888 or email him at matt@mattgul.com

Summarized by: Onur Gul found on instagram @onurguldrone