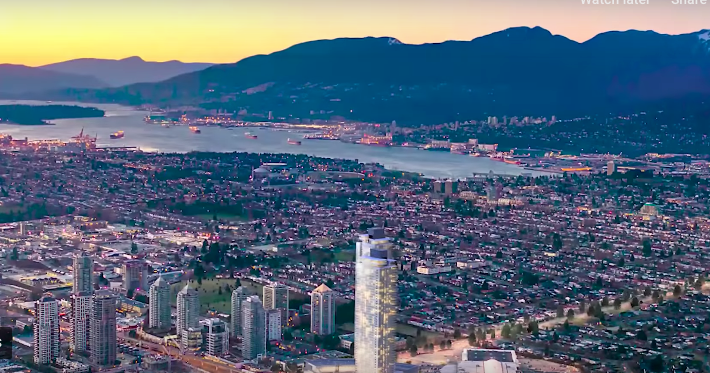 Vancouver's Bentall Centre property has been sold from China's Anbang Insurance Group to an American joint venture including private equity giant Blackstone Group.
Right now, there is a New-York based private equity giant and also a Los Angeles-based company who are both teaming up to buy downtown Vancouver's Bentall Centre, from China's Anbang Insurance Group. This is a deal that brings a lot of American money, yet it also marks the return to town of some very high level-executives who grew up in Vancouver.
Anbang was forced to sell Bentall after the Chinese government seized control of the company to deal with its high debt, allegations of corruption and the jailing of its former chairman.
When Anbang bought the four office towers and retail mall for around $1.06 billion in 2016, the deal was the most expensive in Vancouver history and drew attention by seeming to skirt federal rules for big investments by foreign companies, including the identifying of beneficial owners.
The transaction is currently expected to close in the next couple of months, none of the companies which are involved with the deal, are disclosing the new sale price, according to Jim Szabo, Vancouver-based vice-chairman of CBRE Limited, which is involved with the sale.
Szabo also said there were other offers from domestic and international groups.
The New-York based Blackstone Group will own 80 per cent of the property and L.A.'s Hudson Pacific will own the other 20 per cent and manage and develop it, the companies said Wednesday in a press release.
"We are excited the opportunity to enter the Vancouver office market with the acquisition of one of the city's premier office complexes," said Blackstone's New York-based head of real estate for the Americas, Nadeem Meghji, in a statement. "We … plan to own and invest in this property for the long term."
Coleman always viewed Vancouver, he said in a statement, because of Vancouvers things like its growing tech and media industries, and its favourable immigration policies are a natural expansion market for his office and studio portfolios.
The press release said the companies plan to fully renovate the retail space under the office towers. It also notes the site includes the land needed to build another large office tower, "one of the few remaining large-scale office development opportunities in Vancouver's downtown financial core."
Blackstone has previously done real estate business with Anbang. It was Blackstone that sold the Waldorf Astoria in New York to Anbang in 2014 for a record-setting amount of almost US$2 billion. It also sold Strategic Hotels and Resorts, which includes a chain of luxury hotels in the U.S., to Anbang in 2016 for US$5.5 billion.
Also if you would like to know more about what happened to Vancouver's Bentall Centre property, or if you are thinking on buying or selling your properties, please contact Matt Gul, who is a top luxury real estate agent situated in West Vancouver, who can help you with all of your needs. To contact Matt Gul please call him at 778.888.8888 or email him at matt@mattgul.com
Summarized by: Onur Gul