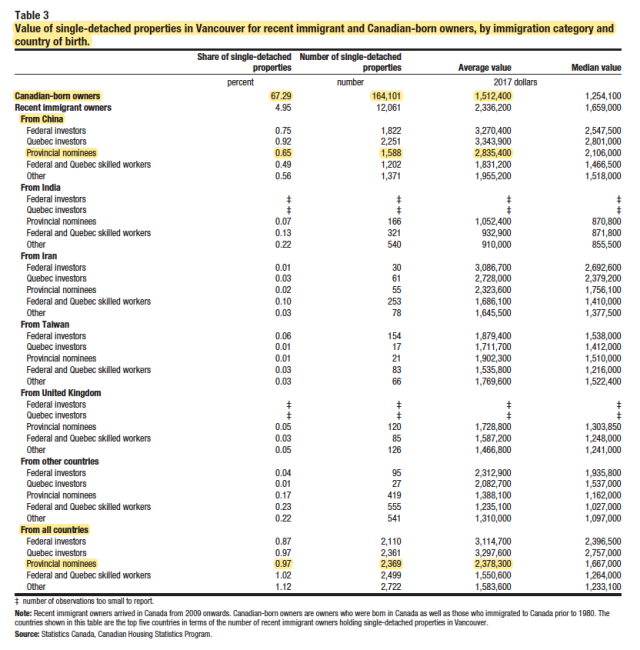 We are now at a point that thousands of people who came to Metro Vancouver through a provincial immigration scheme have bought expensive houses?
A report from Statistics Canada shows that 2,370 people who recently arrived in A Statistics Canada report shows 2,370 people who recently arrived in B.C. through a provincial immigration program have bought single-family houses which are worth an average of $2.38 million in Metro Vancouver, which is $800,000 above the norm for Canadian-born house buyers.
This is a crazy figure, in the part because how politicians will often trumpet how the relatively small provincial immigration programs were created primarily to fine-tune Ottawa's bulkier immigration policy by pinpointing the right skilled workers for each local labour market.
Given that the emphasis of so-called "provincial nominee programs" is supposed to be on newcomers looking for a job, how have thousands since 2009 been able to quickly buy pricey Metro Vancouver real estate? It's difficult to get an answer from officialdom. So we're left to our own devices to figure out this irregular access.
But the revealing data is there in the particulars of a January Statistics Canada report. Its charts point to the way many families are coming to Metro Vancouver with large amounts of wealth, which they've been funnelling into housing.

Greater Toronto was also affected by millionaire migrants entering through provincial immigration programs, like Metro Vancouver. The average price of a Toronto house bought by a recent provincial nominee is $1.06 million, according to the StatsCan report, while the average price of a detached house of a Canadian-born owner in Toronto is significantly less, $849,000.
And it is the same in Metro Vancouver, it is the recent newcomers to Toronto from China who have had the most cash to spend on property. Mainland Chinese make up about two of three of the home buyers in each city who arrived through the nominee program.
Also if you are thinking on buying or selling your properties, please contact Matt Gul, who is a top luxury real estate agent situated in West Vancouver, who can help you with all of your needs. To contact Matt Gul please call him at 778.888.8888 or email him at matt@mattgul.com

Summarized by: Onur Gul