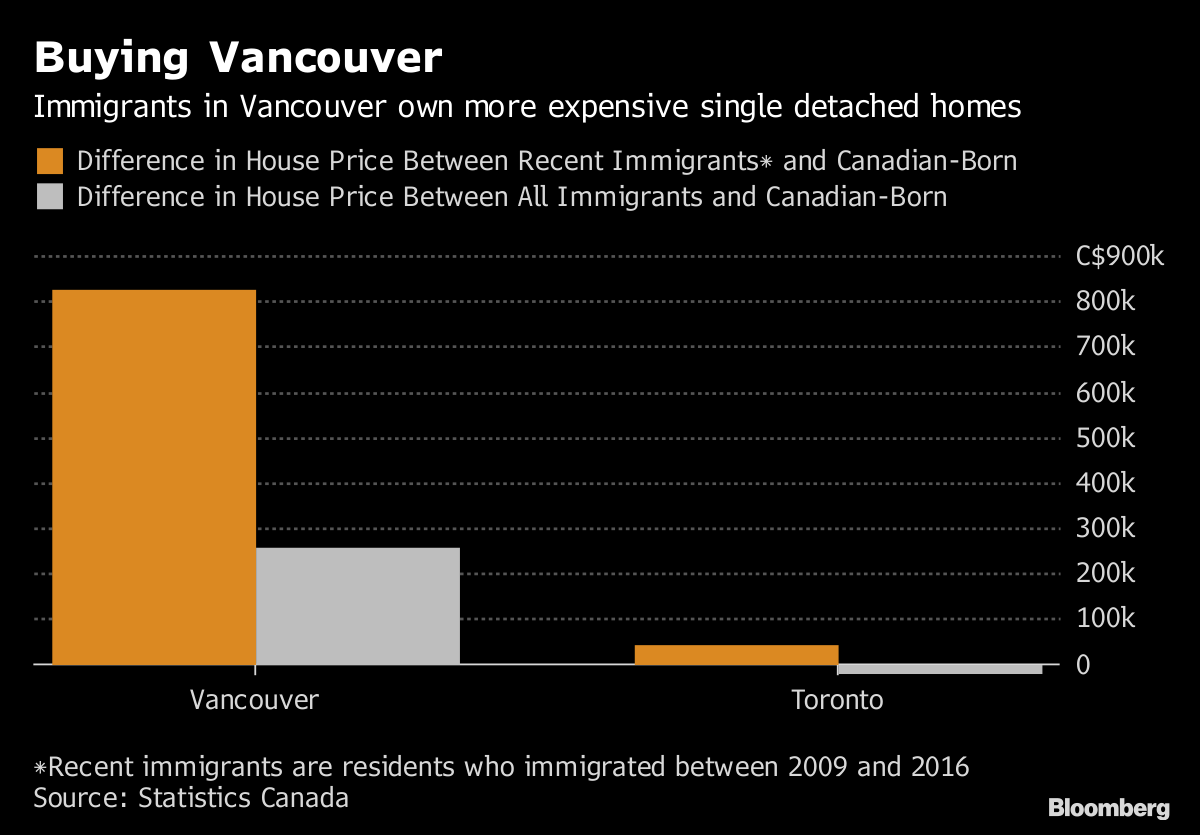 Recently, Vancouver homes purchased by recent immigrants are worth a third more on average than those owned by Canadians, a government study found.
From the people who moved to the Pacific coast city between 2009 and 2016 own 5% of the detached properties, these properties are worth $2.34 million on average, which is $824,000 more than those owned by people who are born in Canada, reported by Statistics Canada on Tuesday. This pattern is not shown in Toronto, the agency said.
This report is one of the most detailed yet on immigration and housing in Vancouver and Toronto, Canada's two most-expensive real estate markets. 
On the report it says that in the Vancouver and Toronto real estate markets newcomers make a large share of the population in each city, in Vancouver they own 37% of homes in Vancouver and 41% of the population in 2016, and in Toronto they own 43% of homes and were 46% of the population.
Out of the recent immigrants in Toronto they own 4.7% of single-detached homes worth an average of $892,600 or just $43,300 higher than other Canadian-born owners, the study found. It did not give a detailed explanation of why the shift to expensive homes in Vancouver by recent immigrants was not similar to the one in Toronto, also saying that a more detailed study would require many more years of data.
The price gap in Vancouver was even larger under an immigration program that targeted new investors in Canada. Recent arrivals to the city under that federal program bought single-detached properties which were worth an average of $3.11 million. Across several immigration categories, the recent immigrants to Vancouver that were from China spent more on housing than people did from nations such as India or the U.K.
Also if you are thinking on buying or selling your properties, please contact Matt Gul, who is a top luxury real estate agent situated in West Vancouver, who can help you with all of your needs. He can also help you if you are a recent immigrant and need help. To contact Matt Gul please call him at 778.888.8888 or email him at matt@mattgul.com
Source: https://www.bnnbloomberg.ca/new-immigrants-spending-620-000-more-on-vancouver-houses-1.1205881
Summarized by: Onur Gul